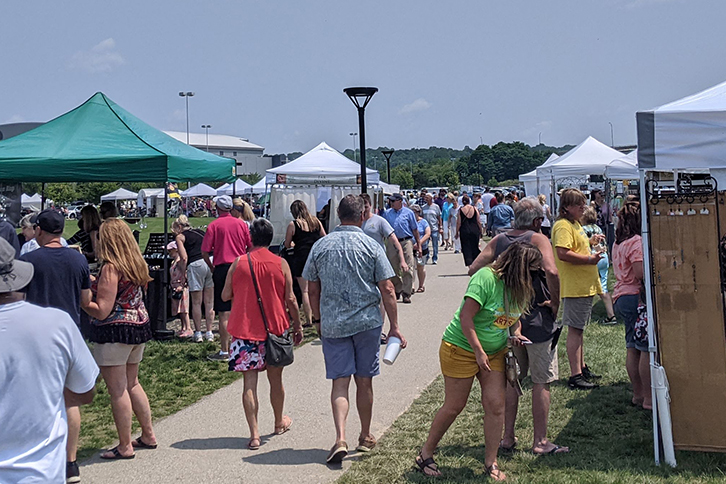 The 24th annual YSU Summer Festival of the Arts will be held July 9 & 10 at Wean Park in downtown Youngstown. Saturday's hours are 10am-6pm and Sunday's hours are 11am-5pm.
The heart of the festival is the artists' marketplace that showcases the work of over 70 local, regional and national artists selling original, hand-crafted pieces such as jewelry, paintings, sketches, sculptures, glass, wood and textiles. Artists' work has been juried, or selected, from among all of the applicants.
Family activities are central to this event and include the popular hands on art tent where children are encouraged to create various pieces of artwork under the guidance of a professional art teacher.
Music, theater and dance performances are also scheduled at the festival, along with community arts activities during the weekend. Over 20 arts and culture groups will be set up on-site to promote their programs and activities.
The Youngstown Wine and Jazz concert will once again be held in conjunction with the festival on Saturday, July 9 at The Youngstown Foundation Amphitheatre, and feature Four80East, the duo of Rob DeBoer and Tony Grace. Their smooth jazz genre includes progressive rock, jazz and gospel. Youngstown native, jazz vocalist Sharon Rae North, will open the concert. General admission tickets are $10 and reserved tickets are $25. Tickets are available at www.theyoungstownfoundationamp.com
The St. Nicholas Greek Orthodox Church Summerfest will also be held nearby July 7-10, 2022. Make it a weekend!
Others participating at their home locations include The Butler Institute of American Art, (Children's activities both days); McDonough Museum of Art, YWCA 40th Annual Women Artists Show, Art House on Elm, Trinity United Methodist Church, Tyler History Center and Arms Museum, (Buy one-get one admission, both days at both locations); OH Wow Science Center, Youngstown Historical Center of Industry and Labor-Steel Museum (Free admission on Saturday); Soap Gallery and the dozens of restaurants, bars and shops located in Downtown Youngstown.
Special events coinciding with the weekend include the Youngstown Flea on Saturday, July 9, 9:00am-3:00pm; Friends of the Library Book Sale at the Main Library on Saturday, July 9, 10:00am-1:00pm; Youngstown Music Teachers Association Student Recital on Saturday, July 9, 11:00am and a patriotic sing-along sponsored by the American Guild of Organists at 1:00pm at Trinity United Methodist Church.
Stay tuned to the Summer Festival of the Arts Facebook page or website for more information.