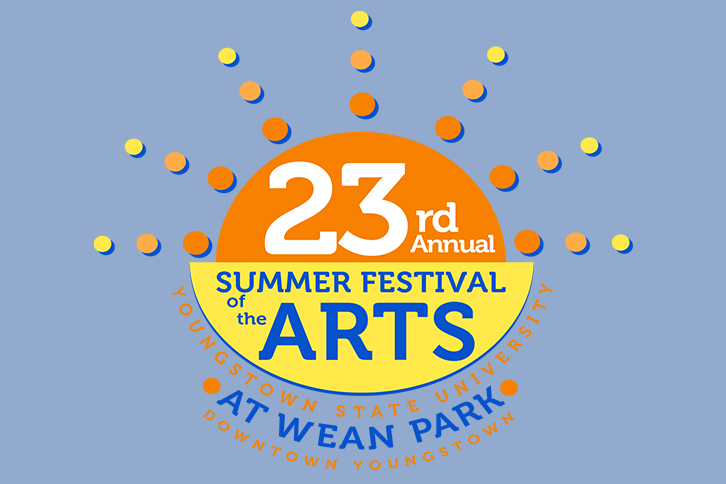 The 23rd annual YSU Summer Festival of the Arts will be held July 17 and 18 at its new location, Wean Park, 229 E. Front Street, Youngstown in between the Market Street Bridge (Huntington Community Alley) and the Covelli Centre. Saturday's hours are 10am-6pm and Sunday's hours are 11am-5pm.
The heart of the festival is the artists' marketplace that showcases the work of over 70 local, regional and national artists selling original, hand-crafted pieces such as jewelry, paintings, sketches, sculptures, glass, wood and textiles. Artists' work has been juried, or selected, from among all of the applicants.
Family activities are central to this event and include the popular hands on art tent where children are encouraged to create various pieces of artwork under the guidance of two professional art teachers.
Dozens of music, theater and dance performances are also scheduled at two stages centrally located at the Park. Groups performing on Saturday: Youngstown Community Concert Band, Larry Elefante, Conjunto Riquena, Irish Brigadiers, John Blinsky featuring Unc D and Thin Thicket, Opera Western Reserve, Oakland Center for the Arts Kids First Theatre Initiative, Ballet Western Reserve and Millennial Theatre Co. Groups performing on Sunday include: County Mayo, JD Eicher, Willie Ross and Counter Pointe, Oakland Center for the Arts Kids First Theatre Initiative, Rust Belt Theatre Company, The Youngstown Playhouse Youth Valley Players, the YSU Fencing Club and Mahoning Valley Players.
Numerous arts, culture, religious and community groups will join the festivities either on-site in a booth or at their home locations. On-site groups include Ballet Western Reserve, Friends of the Mahoning River, Hopewell Theatre, Lit Youngstown, Mahoning Valley Historical Society, Mill Creek MetroParks, Millennial Theatre Company, Oakland Center for the Arts Kids First Theatre Initiative, Our Lady of Mt. Carmel Basilica, Public Library of Youngstown and Mahoning County, Simply Slavic, SMARTS-Students Motivated by the Arts, Stambaugh Auditorium, DeYor Performing Arts Center, Youngstown Symphony Society, Opera Western Reserve, The Youngstown Playhouse, St. John's Episcopal Church, The Montessori School of the Mahoning Valley, Youngstown CityScape, YSU Campus Recreation, YSU Athletics, YSU Honors College, YWCA Mahoning Valley. Others participating at their home locations include The Butler Institute of American Art, McDonough Museum of Art, YWCA, featuring the 39th Annual Women Artists Show, Art House on Elm, Trinity United Methodist Church, Youngstown Presbyterian Church, St. John's Episcopal Church, Tyler History Center and Arms Museum, Oh Wow Science Center, Youngstown Historical Center of Industry and Labor-Steel Museum, Soap Gallery and the dozens of restaurants, bars and shops located in Downtown Youngstown.
Special events coinciding with the weekend include the dedication of the Robinson-Shuba commemorative statue prior to the opening ceremony of the Summer Festival of the Arts on Saturday, July 17, 9:00am at Wean Park; a Pipe Organ Crawl on Sunday, July 18 at 1:00pm includes short organ performances and a historical talk about each organ at Trinity United Methodist Church, St. John's Episcopal Church and First Presbyterian Church of Youngstown. St. John's will offer two church tours on Sunday, July 18 at 1:00pm and 2:30pm, while Trinity United Methodist will offer tours on Saturday, July 17 from 1:00-3:00pm and on Sunday, July 18 from 1:30-3:30pm.
For the tenth year, a Jazz concert will occur in Downtown Youngstown as part of the weekend. Youngstown Wine and Jazz will be Saturday, July 17 featuring saxophonist Jackiem Joyner and Jazz in the Park. Doors open at 6:30pm, at The Youngstown Foundation Amphitheatre. Tickets are $10 each ($25 for VIP seating) and available at the Covelli Centre Box Office, at www.ticketmaster.com or at the gate.
Stay tuned to the Summer Festival of the Arts Facebook page or website for more information.