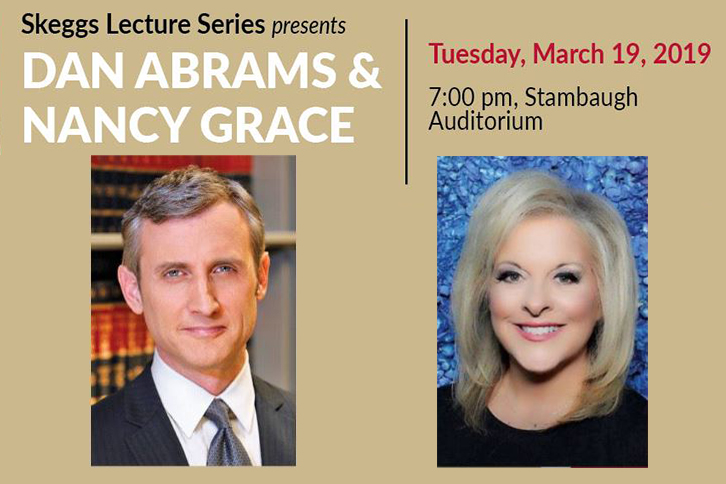 The Youngstown State University Skeggs Lecture Series presents Dan Abrams & Nancy Grace on Tuesday, March 19, 2019 at 7:00pm at Stambaugh Auditorium.
Dan Abrams is the founder of the Abrams Media Network and created and sold Sportsgrid.com. He is also a best-selling author, the Chief Legal Affairs Anchor for ABC News and the host of the hit show LivePD on A&E Network. Previously, Dan served as the General Manager of MSNBC. He also hosted "The Abrams Report", a nightly legal affairs program, and the acclaimed "Verdict with Dan Abrams". Additionally, he was the co-anchor of "Nightline" on ABC News. His latest book is Lincoln's Last Trial: The Murder Case That Propelled Him to the Presidency.
Nancy Ann Grace is an American legal commentator and television journalist. She was the host of Nancy Grace from 2005 to 2016, which was a nightly celebrity news and current affairs show on HLN, and of Court TV's Closing Arguments. Currently, Grace manages a radio crime show on Sirius XM and the website crimeonline.com. She is also the author of the mystery thriller Hailey Dean book series.
Tickets are available beginning February 4, 2019 through the Stambaugh Auditorium website or by calling 330-259-0555.