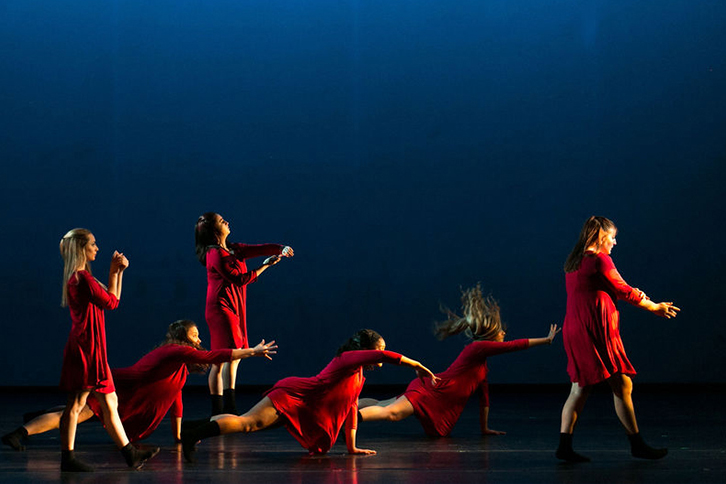 The Youngstown State University Department of Theatre and Dance presents the YSU Dance Ensemble in concert Thursday, February 27, Friday, February 28 and Saturday, February 29 at 7:30pm in Bliss Hall's Ford Theater. There is no Sunday matinee.
This is the 29th consecutive year that the Dance Ensemble has presented a concert.
Adult tickets are $16. Special rate tickets are $8 for non-YSU students, YSU faculty and staff with valid ID, senior citizens, Penguin Club members and groups of eight (8) or more. YSU student tickets are free with valid ID. All tickets are general admission and available by calling 330-941-3105, purchasing online at www.ysu.tix.com or at the door prior to each performance.
Under the artistic direction of Theatre and Dance faculty member Amy A. Wright, the 2020 Dance Ensemble Concert will be a dynamic evening of dance featuring original work by ten student choreographers and three faculty choreographers, and in total over 20 student dancers.
Guest choreographer is Stephanie Frey Anderson, a professional dance artist in the Pittsburgh area and a Resident Artist at the Lincoln Park Performing Arts Center (LPPAC). Stephanie received her MFA in Choreography and Performance from Smith College, and a BS in Exercise Science from Slippery Rock University. She has taught various dance technique and theory classes at Smith College, Youngstown State University (YSU), and Lincoln Park Performing Arts Charter School. Stephanie was a founding company member of Continuum Dance Theatre and has also performed with Exhalations Dance Theatre (EDT), KNOTDance, and The Staycee Pearl Dance Project. Her choreography has been showcased in several LPPAC Dance Concerts, YSU's Dance Ensemble Concert, Ascendance by Millennium Dance Complex, Dance Shorts by Texture Contemporary Ballet, EDT's Choreography Project, Dance New Amsterdam, and EVOLVE Production's shows throughout Pittsburgh.
Student choreographers include Kait Carson, Andi Day, Hannah Hall, Erica Hays, Cassie Jenkins, Katie Kurdziel, Rachel Schmidt, Kenzie Sella, Dagmar Stahl, and Alyssa Stiner. Dancers include Anna Anders, Elizabeth Angeletti, Rosie Bresson, Halla Henry, AnnMarie Lowerre, Destiny Magee, Emily Marks, Mia Matthews, Emily McConnell, Macy Metzger, Sydney Moore, Ben Mowrer, Seth Nycum, Taryn Patterson, Kayla Peterson, Gillian Pirone, Jordan Record, Heather Ristau, Abigail Seidel, and Abigail Whaley.
Parking is available in the M30 Wick Avenue parking deck via for a nominal fee. More information is available by calling the Office of Community Engagement and Events at 330-941-2307.