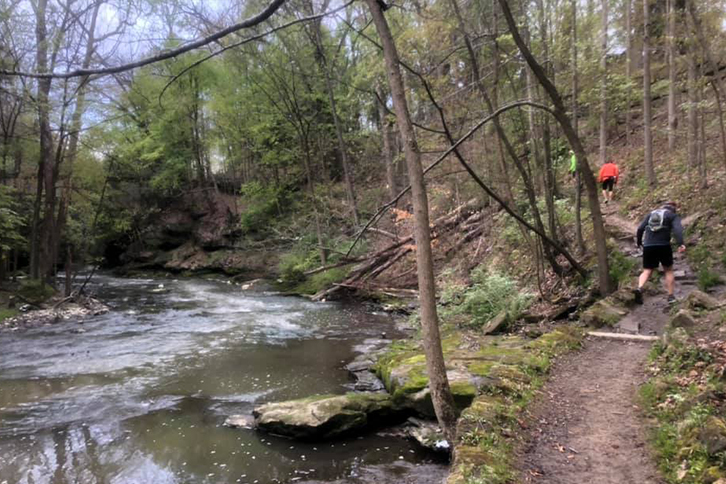 The Youngstown Ultra Trail Classic race will take place on Saturday, September 12, 2020.
However, there will be some changes to meet the current requirements for keeping everyone safe:
1. The race is capped at 100 runners
2. It will start and finish at a new location – Wick Recreation Area – not the log cabin.
3. The course layout will be different – one 25K loop (for 25K) and two 25K loops (for 50K)
4. The park is not open. The race will be on trails only. The pit toilets are open they are located at various points along the course.
5. Food will be packaged – nothing loose. The volunteers will fill your bottles – no touching the water jugs etc. There will be bottled water too.
6. No race day sign up.
7. Covid-19 waivers.
MODIFIED COURSE DESCRIPTION
Race starts and finishes at the Wick Recreation Center – Upper Field .
7:30am start for the 50K runners (waves of ten runners each) and 8:00am start for the 25K runners (waves of ten runners each) .
The new course is 98% single track through a beautiful park with large mature trees, lakes and waterfalls. Mill Creek Park is a very scenic and picturesque location. you will find yourself stopping and snapping photo after photo to share with friends and family.
YUTC is a terrific race for the newcomers to trail running and challenging for the old veteran trail dogs. A mixture of short steep hills followed by runnable terrain will provide everyone with a truly memorable experience.
There are 2 stocked aid stations manned by our friendly and encouraging volunteers. The food will be packaged – no cut fruit and sandwiches. There will be no after-race party this year due to restrictions limiting the number of people gathering in one area.
This year, we are expecting the race to fill quickly. The 25K will cap at 50 runners. The 50K distance will cap at 50 runners.
So sign up quickly – the demand for trail running is very high this summer due to early season race restrictions and cancellations in most parks. Link to register.
We encourage family and friends to join you after you cross the finish line for photos and fellowship as long as they remain at the 6' social distance. Move away from the finish line – No congregating in large numbers!
In the event that something unforeseen again happens and everything is shut down in Ohio (shelter at home requirements) – There will be no refunds.
However, you will be able to defer your entry fee to 2021.