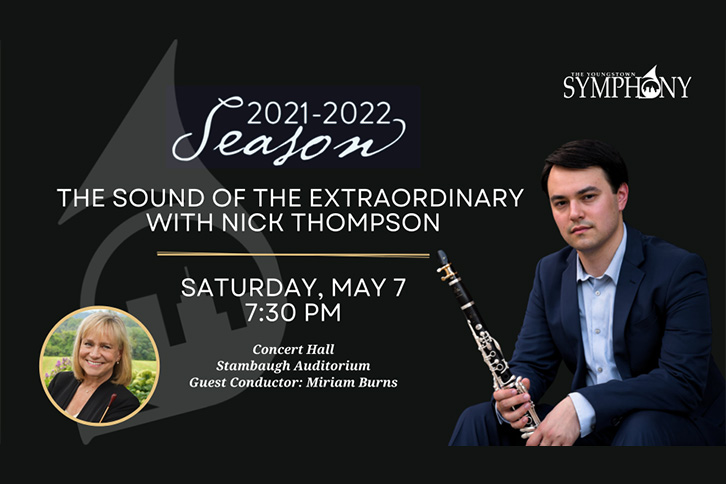 The Youngstown Symphony Orchestra's 2021-2022 season will conclude on Saturday, May 7 at 7:30pm, in the Concert Hall at Stambaugh Auditorium, for an evening of classical works by Tchaikovsky and Mozart. Principal Guest Conductor, Miriam Burns, will lead the concert featuring soloist YSO Principal Clarinet, Nicholas Thompson (Clarinet Concerto in A major, K. 622).
Nicholas Thompson, a versatile orchestral and chamber musician, currently holds the Principal Clarinet seat with both the Youngstown Symphony Orchestra and the Lima Symphony Orchestra. Thompson is a founding member of the Chamber Artists of Southeast Michigan – a chamber music collective founded in 2017 committed to bringing an exceptional cultural experience to Southeast Michigan through live performance, scholarship opportunities, and educational engagement.
Tickets will be available at both the DeYor Performing Arts Center Box Office by calling 330-259-9651 and the Florence and Ward Beecher Box Office at Stambaugh Auditorium by calling 330-259-0555. Both box offices are open Monday through Friday, 10:00am-5:00pm. Tickets will also be available 24 hours a day online at youngstownsymphony.com, deyorpac.org, and stambaughauditorium.com.