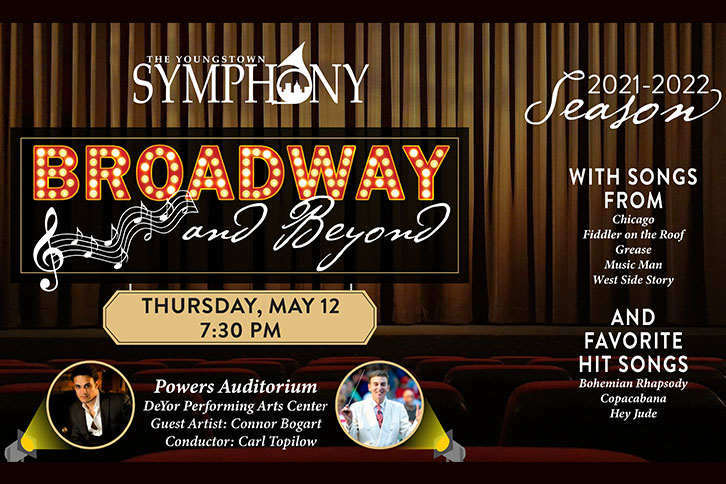 The Youngstown Symphony Orchestra announces the rescheduled date for the postponed Broadway and Beyond concert previously scheduled for February 4, 2022. The concert has been rescheduled to Thursday, May 12, 2022, at 7:30pm. The original date was postponed due to travel conditions caused by winter weather. All patrons who have tickets for the February 4 date may use their tickets on the May 12 rescheduled date. Tickets are once again available for the Broadway and Beyond concert now on May 12.
Music Director and Founding Conductor of Cleveland Pops Orchestra, Carl Topilow, will bring Broadway and Beyond to the Powers Auditorium. Joining Topilow and the YSO is guest vocalist Connor Bogart, a classical violinist since the age of five, studied opera at the Eastman School of Music in New York and has since toured the globe as a professional performer. Concert will start at 7:30pm on Friday, February 4.
Tickets will be available at both the DeYor Performing Arts Center Box Office by calling 330-259-9651 and the Florence and Ward Beecher Box Office at Stambaugh Auditorium by calling 330-259-0555. Both box offices are open Monday through Friday, 10:00am-5:00pm. Tickets will also be available 24 hours a day online at youngstownsymphony.com, deyorpac.org, and stambaughauditorium.com.