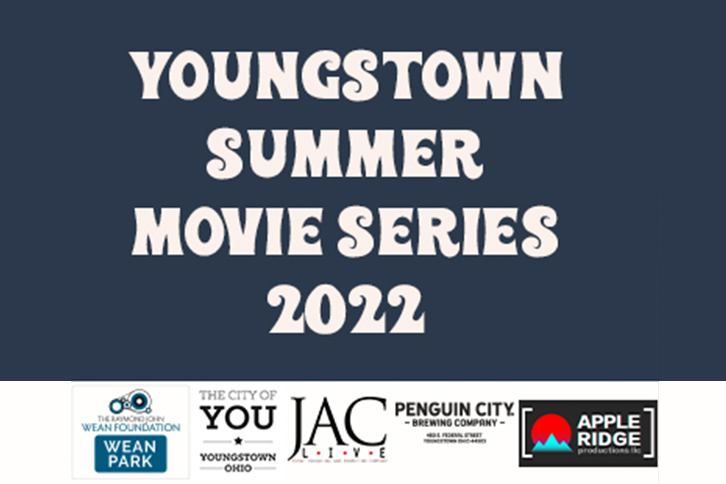 The Youngstown Summer Movie Series is back for the 2022 season! From June 20 through August 15, a series of movies will be shown on the lawn at Wean Park. The address is 229 E. Front St., Youngstown. Each movie is on a Monday and will start at 9pm, if there is a rainout, the movie will be show the next day (Tuesday) at 9pm. Concessions will also be present during the summer movie series.
Along with the regular movie schedule, one of the dates will be at The Youngstown Foundation Amphitheatre, 201 S. Phelps Street. On Friday, July 22, the summer movie series will hold its family night, featuring "Space Jam". The movie will start at 9pm.
The Youngstown Summer Movie Series is sponsored by The City of You, JAC Live, Wean Park, Appleridge Productions and Penguin City Brewing Company.
The summer movie series schedule is as follows:
Monday, June 20 – "Ghostbusters Afterlife" (2021)
Monday, June 27 – "Encanto" (2021)
Monday, July 11 – "The Karate Kid" (1984)
Friday, July 22 – Drive in Movie Night at The Youngstown Foundation Amphitheatre featuring "Space Jam" (1996)
Monday, July 25 – "Scrooged" (1988)
Monday, August 1 – "Spiderman No Way Home" (2021)
Monday, August 8 – "Hocus Pocus" (1993)
Monday, August 15 – "School of Rock" (2003)
If you have any questions, please contact Aspasia Lyras-Bernacki at 330-397-6296 or [email protected]