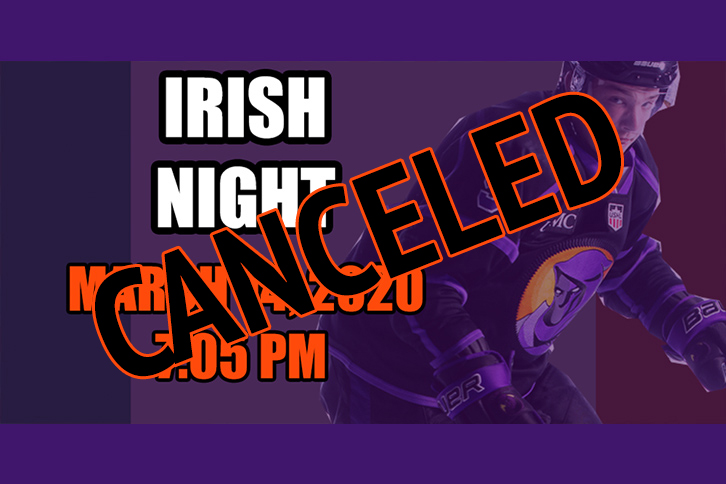 The USHL announced Thursday its decision to suspend game play effective immediately and until further notice. All hockey activities, including practices, workouts and meetings have also been suspended until further notice. The league continues to closely monitor the situation and will use this hiatus to determine next steps regarding the 2019-2020 season.
Fans with Youngstown Phantoms tickets for March 13th & 14th are asked to bring in their tickets to the box office starting next week, March 16th, for a voucher to a future Phantoms game in April 2020 or the 2020-2021 season.
The Youngstown Phantoms take on the Dubuque Fighting Saints. Youngstown Clothing Company is the proud sponsor of the game. The evening will feature dollar beers, dollar hot dogs, and a tee shirt giveaway allowing the entire Valley to celebrate St. Patrick's Day weekend in style!
Youngstown Clothing Company and White Glove Payroll are teaming up with the Youngstown Phantoms to give one lucky fan a chance to win $100,000 at the March 14th hockey game at the Covelli Centre. One lucky fan will be chosen at random to attempt to hit the goal post from center ice. The contestant will be chosen only from fans who attend the game. There will be no warm-ups or pre-qualifying attempts, and contestants cannot have played or coached hockey within the past five years and cannot be current or former employees, family members, agents, successors, or assignees of Youngstown Clothing Company, White Glove Payroll, Youngstown Phantoms and B.J. Alan Company, Covelli Centre, or any other agency involved with this promotion. There will be a table at the entrance for fans to sign up the day of the game.
To celebrate its 4th year in business, Youngstown Clothing Company will also be giving away tee shirts to the first 600 people at the game and designed the specialty St. Patrick's Day themed uniforms for the players to wear that evening. These jerseys will be auctioned off after the game. Youngstown Clothing Company will also be giving away 400 free tickets the week before the game.
Experience exciting USHL hockey. For tickets, call 330-747-PUCK (7825) or visit their website.