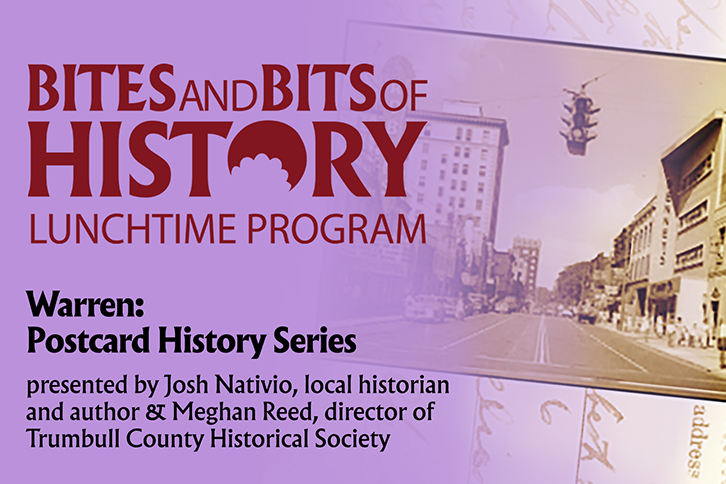 Mahoning Valley Historical Society announces its October Bites and Bits of History lunchtime program at the Tyler History Center. "Warren: Postcard History Series" is the title of the free presentation at noon on Thursday, October 21, 2021. The program will be presented by co-authors, Josh Nativio and Meghan Reed, of their new book by the same name.
Based on over 180 vintage postcards featured in the book, the program will showcase a sampling of these, illuminating the journey that the city of Warren, Ohio took from the 19th century to the later decades of the 20th century.
Josh Nativio, of Warren, studied English and history at Youngstown State University. He has launched social media platforms that give current and past residents a space to explore Warren's history. Meghan Reed, the director of the Trumbull County Historical Society, holds a master's in public history from the University of North Carolina at Greensboro and specializes in developing museums as community assets. In January 2020, Nativio and Reed co-presented a program on their first book, "Warren: Images of America."
MVHS has returned to in-person Bites and Bits of History monthly programs at Tyler History Center after a period of virtual programs, produced as a result of the COVID-19 pandemic. Due to continued concerns for public safety with the COVID-19 virus and its variants, masks are required to be worn by all staff and visitors when inside MVHS facilities.