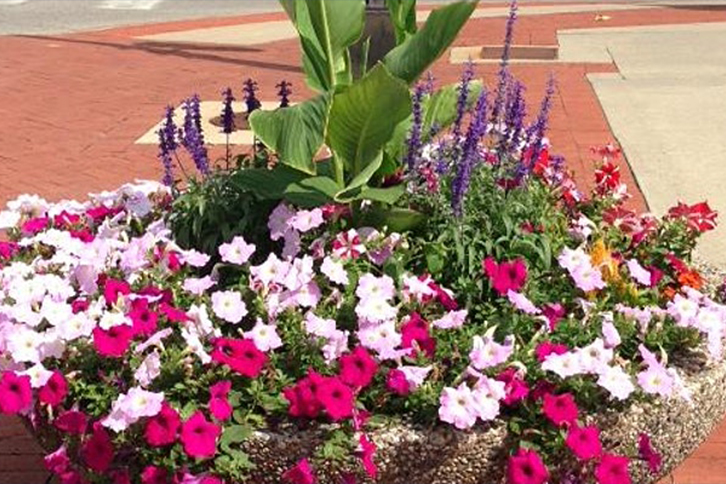 Welcome to Streetscape 2020. We know you'll be excited by this year's Streetscape Day theme – "Bloomin' Arts!" In 2020, we are celebrating the 100th anniversary of our partner and neighbor, the Butler Institute of American Art by adding reprints of select iconic pieces from the Butler collection to our gardens in Central Square. There has never been a better time to recognize the synergy of our two organizations and celebrate together the Butler Institute and CityScape, two pillars of downtown.
We are pivoting our program this year as we work to keep each other safe, flatten the curve, and prepare our downtown for summer. More than ever before, making downtown look bright and welcoming in 2020 will be a critical visual sign of summer for residents, restaurants, businesses, and students. Our flowers and plantings provide a boost for our state of mind that ripples beyond downtown and brightens our whole region. But, we must balance our aim to beautify our city with our primary concern: the health and safety of our volunteers, contributing restaurants, supporters, and stakeholders.
CityScape has ideas of steps forward to beautify while staying safe, and we need you to be a part of our plan!
We are asking our Streetscape volunteers to consider a minimum contribution of $25 (more if you wish) to this year's Streetscape efforts. Your donation will help to cover the cost of creating and mailing out this year's "Bloomin' Arts" Commemorative T-Shirt, as well as the cost of flowers, and the expense of hiring professionals to plant, over the course of several days, areas that our volunteers typically plant all in one day.
We will keep you up-to-date in the weeks ahead as the beds are prepped and the planting begins. Follow us on Facebook, Instagram and/or Twitter for regular postings as our work progresses.
Then, on May 30, put on your T-shirt at 9am, join in the fun and beautify your yard or your neighborhood garden. Take a "selfie" and post it to our Facebook page! Let's share how we are beautifying our city one flower at a time. You know our CityScape Cannas will be right in the center of our pots as always!
For 22 years, you – our enthusiastic volunteers – have given your time, talent, and treasure to our Streetscape Day Project. You have planted, weeded, mulched, and cleaned downtown gardens, pots, and green space, spruced up connecting corridors, and cared for public parks and plazas. We know that year 23 will be different, but special! We feel your dedication, determination, and devotion, and it strengthens our faith in our mission.
Here are a few things you can do to help make Streetscape a success:
Support us through purchasing a T-shirt through the registration and sign up for Planting Day through Eventbrite to participate throughout the City of Youngstown and beyond
Contribute if you can –We face this challenge with loyal supporters at our back, follow the link to donate through the Youngstown Foundation Support Fund and they will add 10% for donations over $100 to celebrate their centennial.
If you're a neighborhood group seeking plant material please send an email to [email protected]
Like us on Facebook and follow us on social media. We will share our decisions and progress.