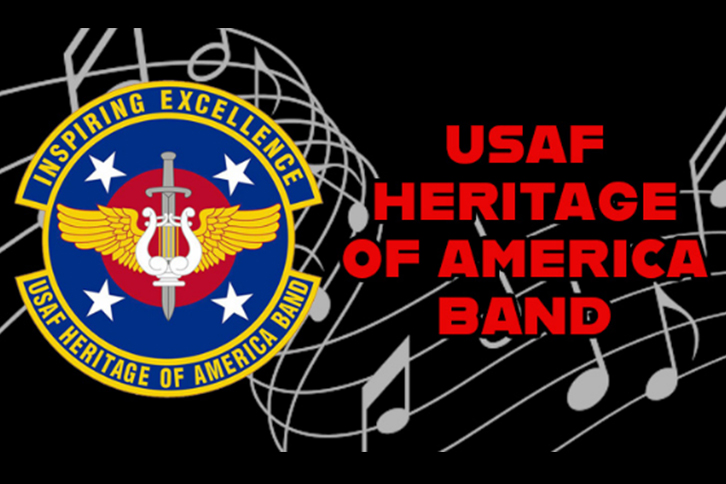 The United States Air Force (USAF) Heritage of America Concert Band is coming to Stambaugh Auditorium. For six decades, the USAF Heritage of America Concert Band has educated, inspired, and entertained over 1.5 million people annually. The Concert Band is comprised of over 40 professional Airman-musicians who captivate audiences on regular tours throughout the East Coast with a variety of renditions of great orchestral classics, marches, Broadway hits, jazz standards, movie music, and patriotic favorites.
The band has appeared with many world-renowned artists, produced over 55 highly- acclaimed recordings and has performed at thousands of high-profile, community outreach and military events. The band's music is often heard on television, radio and the internet, and serves to communicate and convey Air Force core values of integrity, service, and excellence to millions. These achievements have earned the ensemble worldwide acclaim as well as military awards, including eight Air Force Outstanding Unit awards, three Colonel George S. Howard Citations of Musical Excellence for Military Concert Bands, and numerous Mayoral Proclamations.
While the show is free to the public, tickets are required. Tickets can be attained in one of the following ways:
• Pick up in person at the Florence and Ward Beecher Box Office at Stambaugh Auditorium, Box Office hours are Monday-Friday, 9am-6pm.
• Call 330-259-0555
• Mail a self-addressed stamped envelope along with first and last name, phone number or e-mail address, and number of tickets requested (limit 4) to Stambaugh Auditorium Box Office, 1000 Fifth Avenue, Youngstown, OH 44504.
• Follow this link
Salute our Veterans Pre-concert Dinner at 5:30pm
Join us for a fabulous dinner buffet with members of the United States Air Force (USAF) Heritage of American Band in the Stambaugh Auditorium Jeanne D. Tyler Grand Ballroom prior to the concert. Buffet dinner will include smoked ham slices, sliced turkey breast, mashed potatoes with turkey gravy, stuffing with dried cranberries, green bean casserole, crisp garden salad with choice of dressing, fresh baked rolls with sweet cream butter and dessert choice of apple pie, pecan pie or pumpkin pie. Water, tea and coffee included, cash bar available. Tickets for the dinner are $40 and are available by calling 330-259-0555 or visiting the Stambaugh Auditorium website.