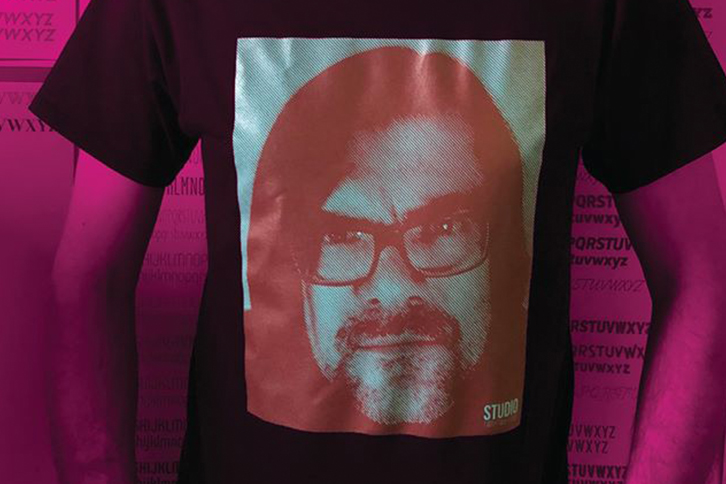 Spencer Norman will speak as part of the Department of Art Lecture Series on Wednesday, February 12 at 5:10pm in the McDonough Museum of Art lecture hall. Spencer Norman relocated to Pittsburgh from London (born and raised,) in December of 2009. After doing stints at various studios, and working as a consultant within the fledgling virtual reality industry in the early 1990's, he began teaching at university level because he wanted to do something a little different.
In 1999, in partnership with designer and illustrator James Gosling, he set up his own design studio and ran it for over eleven years, until he upped sticks and wandered off to the US. As creative director of Munki, Spence worked in most areas of graphic design, including design for print, packaging, motion graphics, and the web; including title sequence design for both short films and feature films, and motion design for the advertising industry.
He continues his practice in the US under the moniker of Bloody Brilliant! and Bloom. He always adopts a holistic approach to the design of all elements in the design process, from logo design all the way through to the full implementation of branding packages. He loves to work on projects that have many facets – such as the film work that he does – designing title sequences, that are then applied to associated promotional pieces such as posters, press packs and media packaging.
What really floats Spence's boat is making stuff move. The next logical step for graphic design is to make it move. More and more new media requires this. Spence has experience in, and a passion for this field, and worked within the advertising industry in London, on various projects, bringing graphics and imagery to life.
But it is his love for typography, and especially typography that moves, that got him into film title design. He has over 10 years experience of working within the film industry in the UK, and has worked both in the digital and analog (film-based) areas of title design, from 16mm all the way to 70mm and Hi-def. His first foray into this area was on the critically-acclaimed short film, The Tale of the Rat that Wrote, produced by Oscar-winning producer, Ruth Kenley-Letts. The film went on to be nominated for a Bafta, and garnered many awards from film festivals around the world. He also designed both the front and end title sequences for Bafta and Oscar-winning director Asif Kapadia's first feature film, The Warrior.
Spence has taught at various universities in London and now in Pittsburgh. He sees a natural fit with the two areas, a process of one educating the other and vice versa, bringing the energy and realism of the workplace into the classroom, and the process-driven, experimental, youthful exuberance of the classroom into the workplace.
Spence is a member of NASAD (National Association for Colleges of Art and Design), and AIGA (formally American Institute of Graphic Arts)
He got his undergraduate degree (BA (Hons) Graphic Information Design) from the University of Westminster, London, and his MFA in graphic design from Central St Martins College of Art & Design,University of the Arts, London.