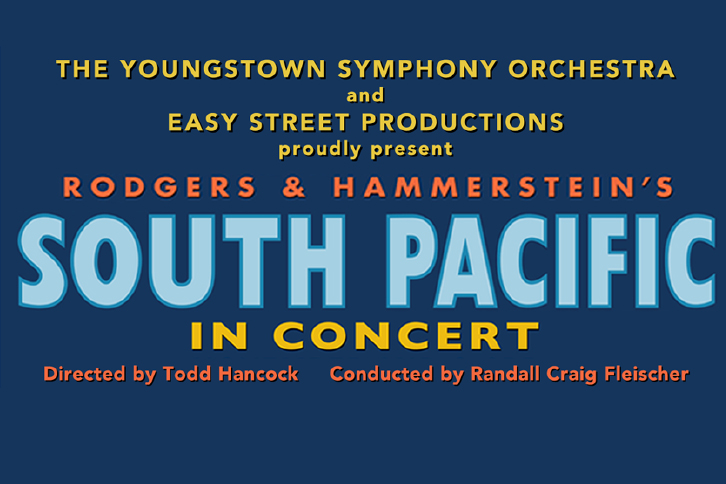 Ever since the success of Guys and Dolls In Concert last February, the Youngstown Symphony Orchestra and Easy Street Productions have been seeking another musical collaboration that could generate the same kind of excitement. After months researching titles that could best showcase the YSO, both organizations agreed that the best choice would be the beloved classic of Rogers and Hammerstein's South Pacific. Based on James Michener's Pulitzer Prize-winning collection of short stories Tales of the South Pacific, Rodgers & Hammerstein's own Pulitzer Prize-winning blockbuster was a landmark of post-World War II Broadway. In 2005, David Ives streamlined the musical into a concert version, which premiered at Carnegie Hall starring country music legend Reba McEntire, and Broadway and Hollywood icons Brian Stokes Mitchell and Alec Baldwin. The Youngstown Symphony Orchestra and Easy Street Productions will present South Pacific In Concert on November 2 & 3 to coincide with musical's 70th anniversary.
Considered by most critics to be among the greatest musicals of the twentieth century, the original Broadway production won ten Tony Awards, including all four acting awards, and many of its songs went on to have a life of their own outside of the musical, including "Some Enchanted Evening," "I'm Gonna Wash That Man Right Outta My Hair," "Happy Talk," "Bali Ha'i," "Younger than Springtime," and "I'm in Love with a Wonderful Guy." It inspired a 1958 film adaptation and has enjoyed numerous successful revivals on Broadway and the West End.
Set in an island paradise during World War II, two parallel love stories are threatened by the dangers of prejudice and war. Arkansas native Nellie Forbush befriends and quickly falls for Emile de Becque, a French expatriate and plantation owner, and Lt. Joe Cable finds himself falling in love with the beautiful island native Liat, the young daughter of local souvenir merchant Bloody Mary. As the war against Japan escalates, reality sets in for both Americans who find themselves struggling to reconcile their own cultural prejudices with their amorous feelings, all the while under the dark cloud of a war that is coming ever closer.
The same creative team that staged Guys and Dolls is back onboard for South Pacific including director Todd Hancock, musical director Don Yallech, choreographer Megan Cleland and YSO conductor Randall Craig Fleischer. There will be some familiar faces from Guys and Dolls returning to star in South Pacific as well. Elysia Jordan and Allan Snyder, who played Sarah Brown and Sky Masterson last February, will once again star as Nellie Forbush and Emile de Becque. Both Jordan and Snyder have a long list of professional credits including Broadway tours of the Andrew Lloyd Weber musicals The School of Rock and Phantom of the Opera. Funny man John Cox who played Nathan Detroit in Guys and Dolls will also return for the role of wise guy sailor Luther Billis. Newcomer to Youngstown, but certainly not to the stage is David Toole who will portray the role of Lieutenant Cable. Toole has several professional credits on his resume from in and around Pittsburgh area including the Pittsburgh CLO.
The production is slated for two performances only on Saturday, November 2 at 7:30pm and Sunday, November 3 at 2:30pm in Powers Auditorium at DeYor PAC. Tickets can be purchased by calling the DeYor PAC box office at 330-744-0264 or by reserving online at YoungstownSymphony.com.