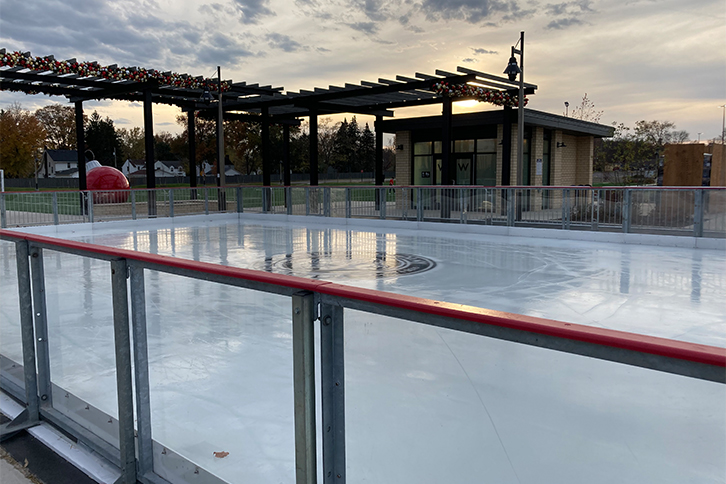 Southern Park Mall is ready to shine for the holiday season! To kick-off the holiday season, friends and families are invited to Santa's Arrival Parade and the Grand Opening of The Rink on Saturday, November 20 starting at 11:00am.
Southern Park Mall will welcome Santa for the season as he makes his grand arrival to DeBartolo Commons at 11:00am. To commemorate the opening of The Rink at DeBartolo Commons, Santa will join the Boardman trustees in a special ribbon cutting ceremony. Following the ceremony, guests are invited to join the parade as Santa marches to his house in Center Court. Santa will parade throughout DeBartolo Commons and Southern Park accompanied by his elves, Boardman High School Marching Band, The Grinch, local high school mascots including Boardman Spartan, Canfield Cardinal, Hubbard Eagles, Jackson Milton Blue Jay, South Range Raider and Sturthers Wildcat.
Families can also enjoy free horse drawn sleigh rides at DeBartolo Commons from 11:00am – 2:00pm. Local food trucks including Auntie Anne's, OH Donut, and others will be offering warms snacks and hot cocoa for purchase. Starting at noon, Santa will be at his house in center court ready to hear children's wishes for this Christmas season. Santa will be available for visits and photos through Christmas Eve. Reservations are encouraged and can be made here. For a full list of Santa hours visit southernparkmall.com.
The Rink will be open starting on November 20 through January 2, 2022. The cost to skate at The Rink is $10 for adults and $8 for kids; guests can bring their own skates or rent for $3. In addition to open skate, guests can look forward to special events at The Rink throughout the holiday season. For a complete list of The Rink hours and special events visit southernparkmall.com. The Rink is sponsored locally by Youngstown Clothing Co. and Akron Children's Hospital.
Southern Park Mall remains focused on providing a safe and enjoyable experience for everyone. In addition to their already rigorous cleaning practices, guests will also find hand sanitization stations located throughout the town center. They ask that everyone conduct themselves in a safe and respectful way in accordance with all federal, state, and local regulations, recommendations and health mandates, as well as each individual retailer's policies. To learn more about holiday celebrations at Southern Park Mall, follow along on social media and visit southernparkmall.com.