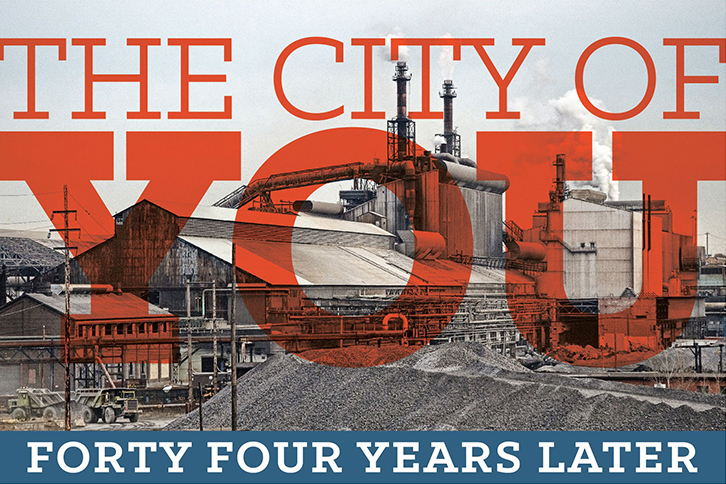 The Reclaiming Our Identity event will be held on September 19, 2021 (the date known as 'Black Monday'), at 5:30pm. The Youngstown Mayoral proclamation, Youngstown City Council resolution and Congressional Resolution from the office of Tim Ryan documents are planned, for display, at this gathering. This year's 2021 event event will feature: A "Tour & Talk" about Our Past. Our. Present. Our Future. Forty Four Years after the Steel Mills have closed, we will talk with former Mill workers and new property owners about where have we been, where are we now, and where we are going.
Sept. 19, 1977 — is a day remembered by many as "Black Monday" where the Steel Mills closed. Many of us stand as a witness to Youngstown's importance to the Rustbelt and the steel that remains a foundation to this nation. Since then, it's as if we have wandered through the wilderness for 44 years attempting to find ourselves. It is time to begin RECLAIMING OUR IDENTITY as entrepreneurs and tell our newest story; just as loudly and repeatedly as the one before this has been told to us for so long; this is a new chapter in a story filled with a colorful, bright and prosperous future.
This initiative of "Reclaiming Our Identity" is an annual event that seeks to gather and partner with community residents, public/private sector institutions and business organizations, to create engaging and diverse cultural, educational and entertaining activities. Individuals and organizations that choose to observe this day of Reclaiming Our Identity, will be encouraged to organize events and activities that stimulate public awareness and sensitizes people to the adoption of it; and to ensure that it is a day used for public good.
LOCATION:
We begin at Penguin City Beer and end at The Youngstown Flea. Visit in-person or via Facebook Live. Penguin City Brewing Co., 460 E. Federal Street, 44503 (formerly Republic Steel and The William B. Pollock Co.). The Youngstown Flea., 365 E. Boardman Street. 44503, (formerly Northeast Fabricators and Forsythe Scale Co.)