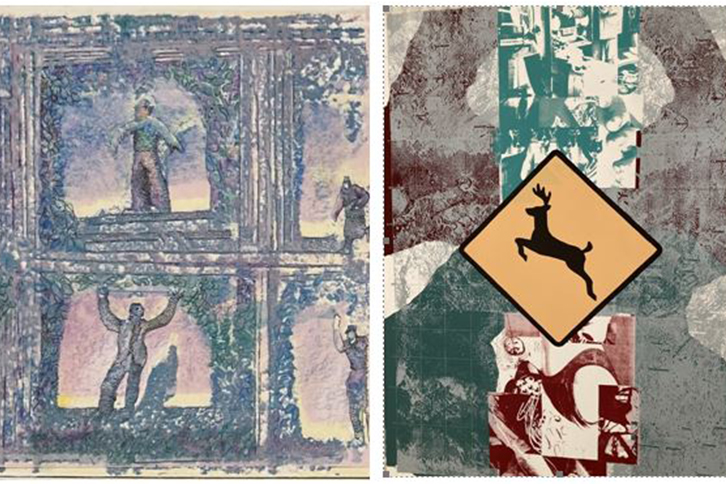 Join the  John J. McDonough Museum of Art on July 24 from 2-4pm for a print sale.  As part of the In Memoriam exhibition that celebrates the work and memory of three professors from Youngstown State University's Department of Art, the prints Jack Carlton and Michael J. Walusis will be available for purchase (cash or check only). Thanks to local lenders and the Butler Institute of American Art the exhibition also includes paintings by Al Bright.
A traveler by nature in both his art and life Jack Carlton's work is a complex blend of his experiences and creativity. Carlton spent time living and working in Morocco, Maine, Boston and New York and eventually settled in Ohio. For several years he shared his knowledge and artistic abilities with students at Youngstown State University where he primarily taught printmaking. Over his long career as an artist, he became skilled in a wide range of media from painting and mixed media to sculpture and artist books. He was also the curator and coordinator of the Downtown Murals Project: MUSEUM WITHOUT WALLS which placed over 50 murals on Youngstown buildings using images from local museums designed to both beautify the downtown Youngstown area and provide a cultural and historical context for the city. As is evidenced by the prints included in this exhibition, he often produced work in a series taking inspiration from current events, social issues and the world around him. Carlton had numerous solo exhibitions throughout his career and many of his works are in public and private collections in the United States, Europe and North Africa.
Michael J. Walusis taught printmaking, drawing and design at Youngstown State University for 40 years influencing and inspiring many students in his time as a professor. He also served as Chair of the Department of Art from 1986-1991 and during his tenure the John J. McDonough Museum of Art was constructed.  Even during  his time as an instructor, Walusis  pursued his work as an artist. The printmaking on display shows his ability to use multiple techniques and demonstrates his range from realistic to abstract and also his many artistic influences. Although this exhibition features his printmaking, he was a talented artist who used a variety of media. In his later works of painting and screen printing he tended to use bright, vibrant colors and even began to rework some of his earlier pieces. He often used printer's ink instead of paint and worked on both canvas and paper. Throughout his career Walusis participated in many exhibitions and has work in private and public collections across the country.