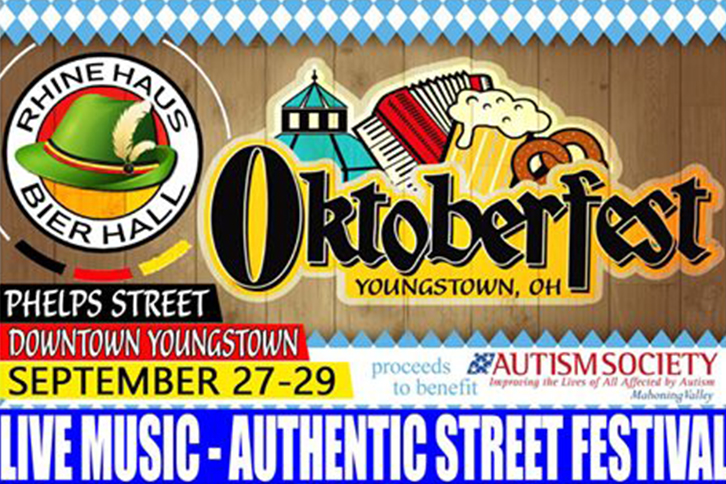 Join us to celebrate the best of the fall harvest at Rhine Haus Bier Hall in Downtown Youngstown. This authentic German-style street festival will fill Phelps Street with live music, authentic food, folk dancers, kids rides, contests & more. Bring the whole family and grab some Gemütlichkeit. This will be a fun, family-oriented event featuring will include delicious ethnic food, authentic German beer and foot-tapping music and games all day. The Main Stage will feature regional ethnic bands all day and rockin' headliner bands every evening. Friday night headliner is Old Skool; Saturday night is The Prince Project; and Sunday night is Youngstown's House Band. Sunday night they will Light the Town Pink at 8:00pm for Cancer Warriors.
The fun activities are set up for party goers of every age. Join in on the pretzel toss, beer stein race, Best Beer Belly Contest, Bratwurst-Eating Contest , Yodeling competition, the Community Chicken Dance and, of course, the infamous Masskrugstemmen—the one-liter stein holding contest. Combine this with 50/50s, drink specials and basket raffle for a great time.
Admission is $5 for adults/$10 weekend pass – 12 years and under are free.
Music Schedule:
Friday, September 27
5:30pm-9:30pm – FRED ZIWICH & ISM, Cleveland, OH
10:00pm-1:30am – OLD SKOOL, Cleveland, OH (first set outside, second inside)
Saturday, September 28
1:00pm-4:00pm – KOSMIX, Cleveland, OH
4:30pm-8:00pm – BOB KRAVOS & THE BOYS IN THE BAND, Chardon, OH
*with special guest, Canada's Polka King & 3X Grammy Award Winner Walter Ostanek
9:00pm-11:00pm – THE PRINCE PROJECT, Columbiana, OH
Sunday, September 29
12:00pm-2:00pm – SAXON BAND, Youngstown, OH
5:00pm-8:00pm – THE HOUSE BAND, Youngstown, OH
8:00pm – Light Youngstown Pink for Cancer