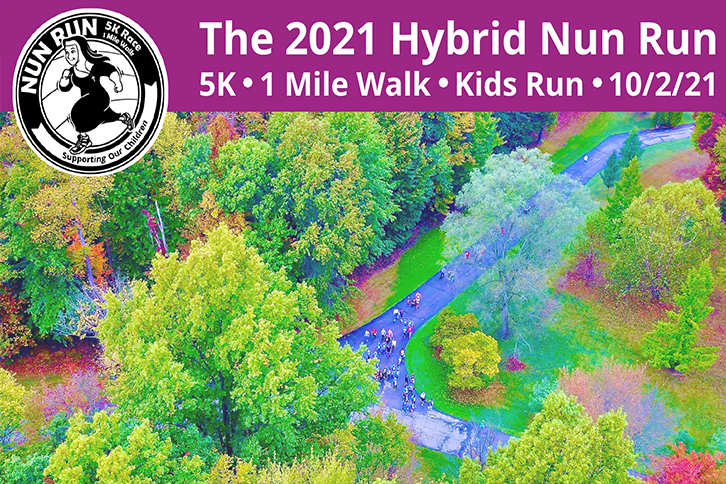 The Ursuline Sisters HIV/AIDS Ministry and Ursuline Preschool & Kindergarten are hosting the 7th annual Nun Run 5k, 1-mile walk, and kids' run. This year, the event will be a hybrid of an in-person event as well as a virtual one! It is a wonderful way to support the ministries' vital missions, stay active, and get the whole family involved in a healthy service activity.
The in person event will take place on Saturday, October 2, 2021, at the Ursuline Center. The entry fee is $25 in advance or $30 the day of the race. In order to be guaranteed a t-shirt, entries must be received by Wednesday, September 15th. There is no entry fee for the Kids' Run. Registration will open on race day at the Ursuline Center auditorium at 7:30am. A Kids' Fun Run begins at 8:15am, followed by the 1-Mile Walk at 8:30am, and the 5k Race at 9:00am. There will be awards given to the top three overall male and female finishers, as well as age group winners. A cash award will be given to the man and woman who can set a new record on the 5k
course.
The virtual event will run from Saturday, October 2 – Saturday, October 16, 2021, and can be completed from anywhere in the world! Virtual participants will also receive an official Nun Run t-shirt, finisher medal & goodies with their entry fee of $25. The race must be completed during the weeks of October 2nd – 16th from any location.
The proceeds from this event will benefit the children served by the Ursuline Sisters HIV/AIDS Ministry and the Ursuline Preschool & Kindergarten.
Also back by popular demand is "Run for a Nun." Participants can sign up to run in honor of an Ursuline Sister. Online registration and sponsorship opportunities are available on the race website. If you have any questions, please contact them at 330-729-5703 or at [email protected]