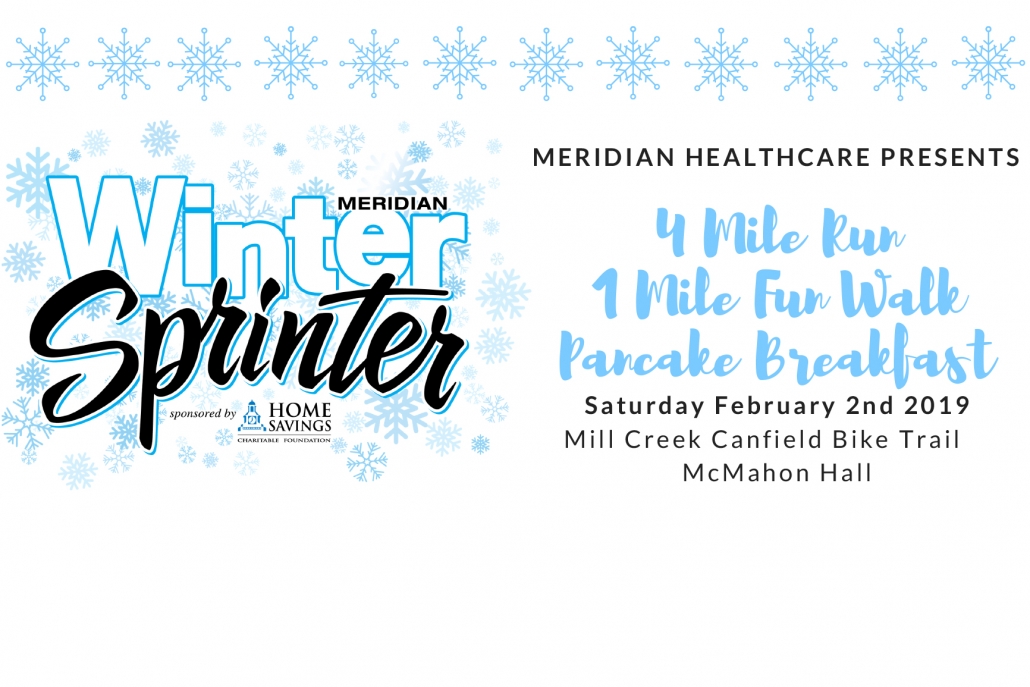 Meridian HealthCare presents the 2019 Meridian Winter Sprinter 4 Mile Run, 1 Mile Fun Walk, and Pancake Breakfast on Saturday, February 2, 2019 at the Mill Creek Canfield Bike Trail and McMahon Hall. After the race walk over to McMahon Hall to stay warm and enjoy hot chocolate and pancakes! Breakfast is free to all runners/walkers. $5 at the door for non-participants. Restrooms and parking are available.
Start Times for the 1 Mile Walk – 10:00am and 4 Mile Run – 10:45 am. Events start and finish at the McMahon Hall parking area and will be held on the Canfield Bike Trail.
Awards – 4 Mile Run. Male and Female Overall — Top 3 Female and Top 3 Male places in each age group: 23 & under, 24-39, 40- 55, 56+. Award ceremony in McMahon Hall after the race.
To register, download a registration form on their website or sign up at runsignup.com. On Race Day, registration will begin at 9:00am.