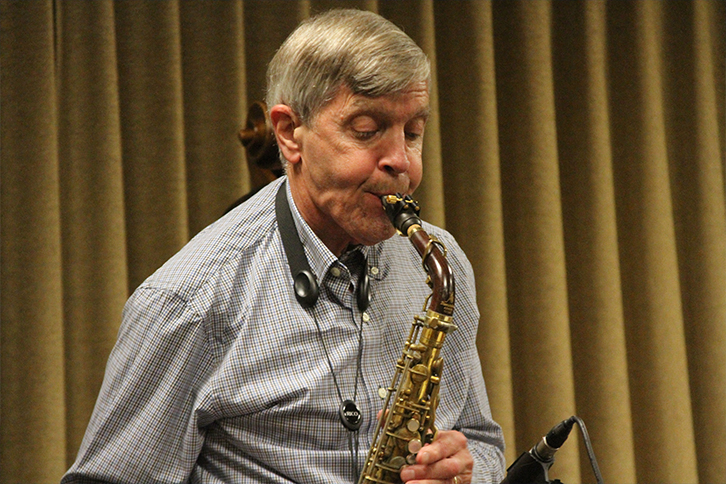 The Dana School of Music announces a Jazz Day and Saxophone Summit on Saturday, January 18, 2020 in Bliss Hall from 8:30am-5:00pm. The event is free but advance registration is requested at ysu.edu/music/jazz-sax-summit.
Refreshments will be provided, while music retailers will have instruments and products available. World-renowned jazz educator and performer Jamey Aebersold will conduct several jazz clinics and perform in concerts throughout the day. Dr. James Umble, YSU professor of saxophone, nationally recognized saxophone teacher, soloist, chamber musician and author, will present classical performances and solo clinics. In addition, breakout sessions for jazz drummers, jazz bassists and keyboard players will be presented by YSU Jazz faculty Kent Engelhardt (saxophone and piano), Dave Morgan (bass), and Glenn Schaft (percussion faculty and jazz drummer), and Dave Kana (saxophone). A professional session for music educators is scheduled, called "Improving the Saxophone Sections in Your Bands".
Jamey Aebersold is an internationally known saxophonist and authority on jazz education and improvisation. He has developed a series of Jazz Play-A-Longs, now numbering almost 130 volumes, as well as various other supplemental aids for the development of improvisational skills. The Aebersold book and recording sets allow a musician the opportunity to practice and improvise with well-known jazz personalities at home as well as in the classroom. The recordings employ some of the best jazz musicians in the world. This concept has been responsible for changing the practice habits of thousands of musicians around the world. He graduated from Indiana University in 1962 with a Master's Degree in Saxophone, and then was awarded an Honorary Doctorate of Music from his alma mater in 1992.
In 1989, the International Association of Jazz Educators inducted Aebersold into their Hall of Fame where he joins jazz luminaries such as Count Basie, Duke Ellington, Charlie Parker, Louis Armstrong and others. His additional accolades include receiving the Indiana Governor's Arts Award, the National Endowment for the Arts Jazz Master Award, the A.B. Spellman NEA Jazz Masters Award for Jazz Advocacy, and the Jazz Midwest Clinic Medal of Honor in Jazz Education.
For over 40 years, Aebersold has directed the Summer Jazz Workshops that occur both internationally and in the U.S. These camps employ many of the finest player/teachers in jazz, including YSU jazz faculty member Dave Kana, and are open to any serious jazz student regardless of ability or age.
Free parking is available in the M30 Wick Avenue parking deck for attendees. More information is available by calling the Office of Community Engagement and Events at 330-941-2307 or by emailing Dr. James Umble at [email protected]