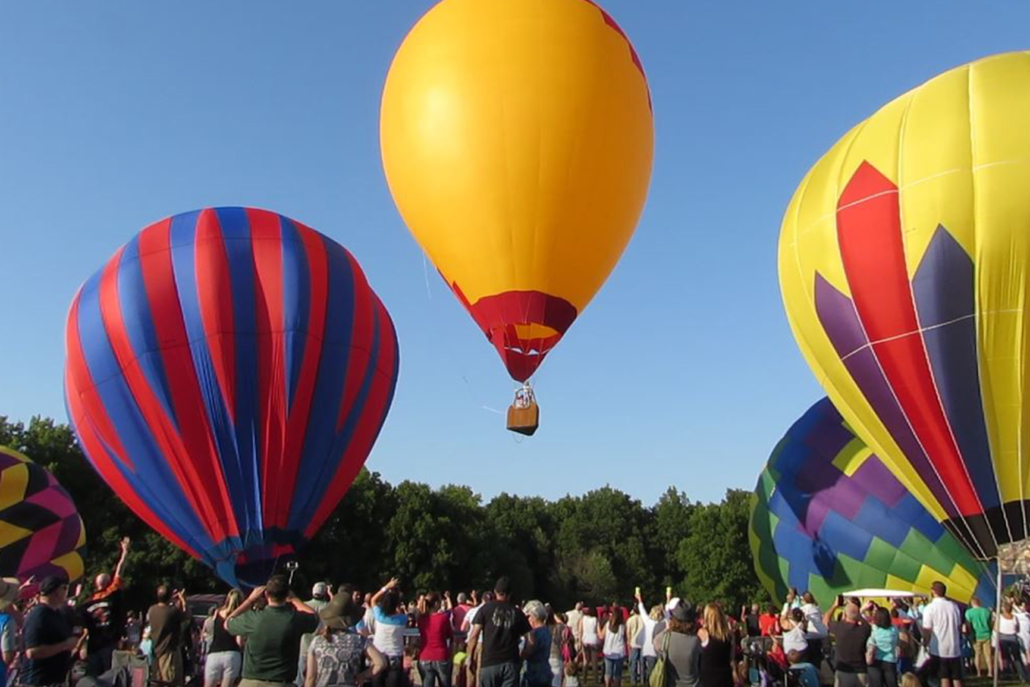 The most popular and busiest event of the summer at Mastropietro Winery! Fun for the entire family including children's activities. Don't miss it!
Please Note: There is an Admission Fee of $5.00 per person for the Balloon Fest for anyone over the age of 10 years – this helps to defray the costs of the hot air balloons, the balloonists' fees, the various entertainments for the kids, musical entertainment, parking assistance, etc. This is the only winery event that has an admission fee.
This is a kid-friendly event with hands-on craft sessions for the children in the front Pavilion by the lake from 1:00pm-4:00pm as well as chalk drawing (Sorry, no Face Painting this year as all of the painters contacted were busy with previous engagements). Live entertainment will be provided for your enjoyment. Davis-Henner (Acoustic Rock & Roll) will be performing from 1:00pm-4:00pm and then Sounds Around Town (Music that Appeals to Everyone) will be playing from 5:00pm-8:00pm.
Please do not bring in food or beverages. Coolers will be inspected for alcohol not purchased from the Winery. There will be a variety of food to satisfy everyone's taste buds! We will have various food vendors plus lots of Kid Friendly beverages and snacks through the Berlin Center Fire Department as well as Kettle Corn, fresh Lemonade Shakes and Ice Cream from DQ. We anticipate food and snacks to be served from 2:00pm until at least 7:00pm. And we expect the vendors to be moving rapidly to keep on top of all orders so there should be no major waiting on your part. The winery will set up an outside bar for wine sales by the bottle and there will also be a beer truck by mid afternoon.
FYI – BYOG (Bring your Own Glass!) This is a busy day so the Winery will be using plastic cups for ALL beverages…wine, beer and soft drinks. You are welcome to bring in your own glass(es). Also the Winery will not offer Tasting Trays.
Rick Kohut, our BalloonMeister, will display his balloon gondola at about 4:00pm so you can see what the balloonists and their guests fly in. This is a great photo opportunity especially for the children – they can get inside the basket and Mom and Dad can snap away!
Later, nine additional pilots with their colorful hot air balloons will arrive and unpack in the large field between the winery and the tree line for a possible flight from the winery between 5:30-6:30pm depending upon weather. Please note: Balloon inflation and launch is totally regulated by FAA guidelines and the weather. The winery has absolutely NO say as to when or if the balloons launch. In years past with good conditions, the balloons have inflated and have taken off between 6:00 and 7:00pm.
Interested in a balloon ride? Please contact Rick Kohut directly at 330-413-5587. A balloon ride is $200.00 per person (this is discounted from the normal $250.00 fee). Basket space is commonly shared and a maximum number of rider slots are available on a first-contact basis.
Children under 12 years of age cannot ride; ages 13-17 years must be accompanied by a parent. Payment is by cash or check only and is payable directly to your assigned pilot. Be aware that each pilot reserves the right to deny access to their aircraft to anyone who is not acceptably fit or capable of a flight… so please, if you are planning on flying, enjoy soft drinks, tea or water for a couple of hours before takeoff. You will be expected to sign a pilot insurance Waiver Release of Responsibility. Each pilot attending is highly experienced and is personally selected for this event. Flights and rides are never guaranteed as each pilot is in full command of his/her aircraft and has the discretion to choose to fly or not based on the weather conditions.
If you do schedule a flight, you are to wear cotton clothing, tennis shoes (no sandals or flip flops), and bring a light jacket just in case it gets chilly up there. Don't forget your camera as well – it is amazing what you will see from your vantage point!
Once again, the Berlin Township Fire Department will be assisting with parking as long as they do not receive an emergency fire call. We did add five more acres of field parking but don't wait until 6:00pm to come out if it is a nice day! If you have been to this festival before, you know that it gets busy early. Throw some lawn chairs and blankets in your car in case as seating is limited.