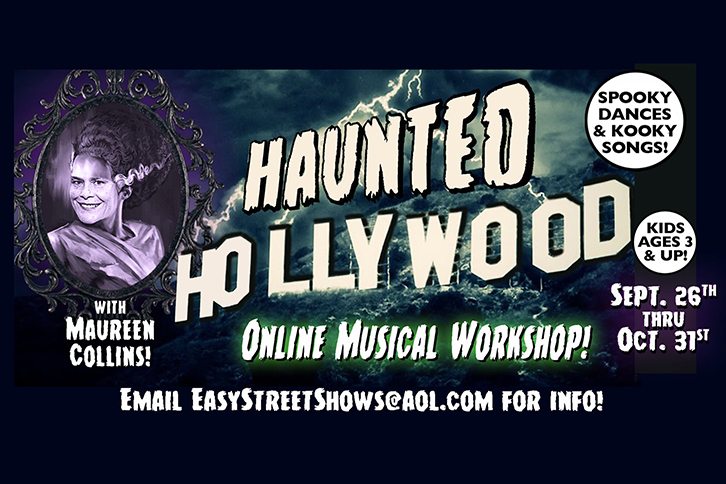 Maureen Collins will be hosting Easy Street's wackiest online workshop yet, taking her classes on a virtual tour INSIDE some of Hollywood's spookiest films!  With the use of animated backgrounds, these fun-filled, age appropriate classes will travel via time machine through old movies and spooky locations learning Halloween's greatest hit songs & dances! Easy Street choreographers Megan Cleland and Colleen Chance will challenge each age group with fiendishly-fun dance routines, and Miss Maureen will add interesting facts from spooky places all around the world! She will also and assign fun weekly projects from carving pumpkins, applying creepy make-up and creating a costume! This workshop guaranteed to get your little monster into the "spirit" of the season!
On October 31st the workshop will end with an online HALLOWEEN COSTUME CONCERT featuring final performance videos of each age group that can be shared with your entire Addams Family! This Halloween is sure to be a THRILLER with songs from The Wizard of Oz, Scooby Doo, Ghostbusters, Little Shop of Horrors, Beetlejuice, Hocus Pocus, Young Frankenstein, Rocky Horror, and The Nightmare Before Christmas just to name a few!
Workshops take place Saturdays, Sept. 26th through Oct. 31st
Ages 3-5: 10:00-10:45am
Ages 6-8: 11:00-11:45am
Ages 9 & Up: 1:00-1:45pm
The cost of the workshop is $75.00, which includes six weeks of classes, rehearsal materials and choreography links. Easy Street offers a sibling discount price of $50.00 for children of the same household. Registration forms available at EasyStreetShows.com.