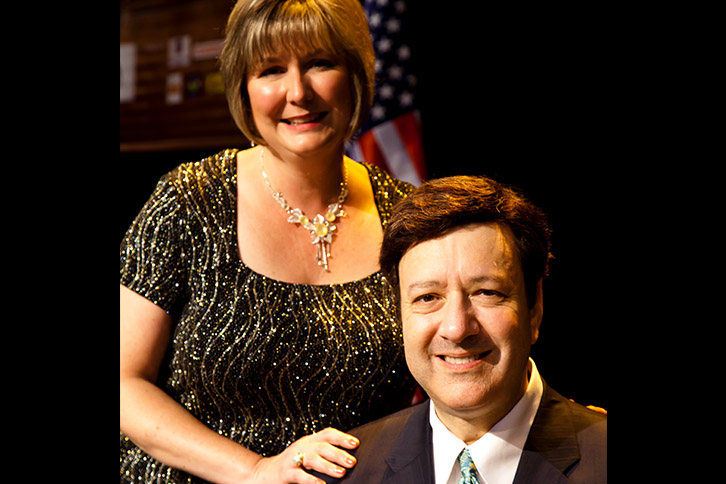 The Dana School of Music announces a recital by guest artists Dr. Jeanie Darnell, soprano and Dr. Michael Baron on Friday, September 24 in Bliss Recital Hall at 7:30pm. The program is free and open to the public. Masks are required at all indoor events at Youngstown State University.
Music includes romantic songs by Schumann, Massenet, Chopin, Viardot and Verdi.
Jeanie Darnell is Professor of Music and Head of Vocal Studies at Florida Gulf Coast University's Bower School of Music. As a concert artist, Darnell has been hailed by critics throughout the United States and in Europe for her "wonderfully bell-like tones" (Wertheimer Zeitung). A regional finalist in the Metropolitan Opera National Council Auditions in 1998, she has been in demand as soprano soloist of major concert and oratorio repertoire. She has been a featured soloist with the Gesellschaft für Musiktheater (Vienna), Naples Philharmonic Orchestra, the Southwest Florida Symphony, Opera Naples, Patronato Peruano de la Música Centenarios, Operafestival di Roma, Corsi Internazionali di Musica, Omaha Symphony, Arkansas Symphony Orchestra, Denver Bach Festival, Naples Bach Ensemble, Fort Myers Symphonic Master Singers, Lindsborg Messiah Festival, Colorado Music Festival, and Rocky Mountain Music Alliance. A champion of new music, she has presented concerts of works throughout the United States by composers Robert Boury, Don Freund, Richard Hundley, Lori Laitman, Marcia Marchesi, Timothy Snider and Z. Randall Stroope.
An award-winning concert pianist, Michael Baron performs over 40 concerts each year, including annual tours of Europe and South America, and engagements throughout the United States and Asia. Equally at home as a recitalist, a soloist with orchestra, and a chamber musician, Baron commands a diverse repertoire, ranging from Baroque compositions to world premieres of contemporary pieces. His virtuosity and musicianship regularly garner the highest critical acclaim. Il Tempo (Rome) praised his "spellbinding recital. Baron kept the audience enthralled with a combination of touching poetry and superhuman virtuosity." Baron received his doctorate in Piano Performance studying with the legendary American pianist Earl Wild. He also worked extensively in Italy with the renowned pianist Orazio Frugoni. Dr. Baron serves as the Myra and Van Williams Distinguished Professor of Music and Head of Keyboard Studies at the Bower School of Music at Florida Gulf Coast University in Ft. Myers, Florida. He is also Honorary Professor of Music at Yantai University and Hubei University in the People's Republic of China. A distinguished educator, Baron has presented master classes and workshops at schools, festivals, and universities throughout the world. He regularly serves as a jurist on regional, national, and international piano competitions. Recent performances have taken him to Italy, Hungary, Switzerland, Belgium, Germany, China, South Korea, Serbia, Peru, Bolivia, and Taiwan, as well as U.S. performances. An acclaimed master teacher, Dr. Baron's students regularly win competitions throughout the United States and abroad. Baron is the director of several summer music festivals in Europe and is an official International Steinway Artist.
More information is available by calling the Office of Community Engagement and Events at 330-727-7514.