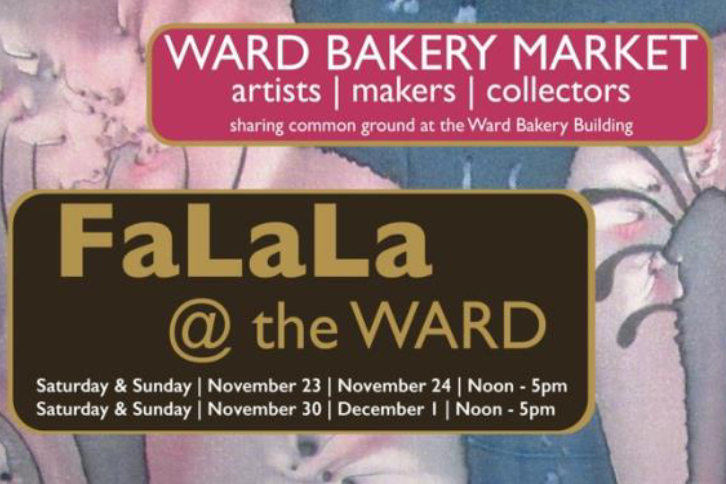 Formerly the Artists of the Mahoning Commons | Holiday Open Studio and Art Sale. After 17 years, we are doing a makeover of our show with a wave of new artists and collectors and the addition of both the Vegan Bazar pop-up and "YOUNGSTOWN Wants to Skate," an exhibition of 50 skateboard decks from the Bliss Kids Collective. The event will feature food trucks, two local DJs, Maya Universe and the Peppermint Pals and two artist talks. The newly formed Bakery Committee's goal is to bring to the community a one of a kind cultural event that people of every age and from all walks of life can enjoy.
Saturday, November 23 & Sunday, November 24, 12:00pm-5:00pm
Saturday, November 30 & Sunday, December 1, 12:00pm-5:00pm
Featuring: Painting, jewelry, sculpture, pottery, fiber art, soap, mixed media, drawing, prints, photography, digital art, live fan motor painting performance art, custom woodwork and vintage furniture and accessories. Participating Youngstown Area Artists: Tony Armeni – sculpture, Lynn Cardwell -pottery, Susan Crisan – Sandpiper Soap Co., Rick Fisher – photography, Nick Levinsky – Urban Industrial Concepts- furniture, LeAnn Lewis – painting, jewelry and ceramics, Maryann Limmer – pottery, Robyn Maas – Robyn Maas Gallery, Erica Perna – live fan motor painting, Elise Petras- drawings and comics, Lauren Pott s – Lunalu Artisan Jewelry, Nichole Rich – dot Mandalas and wood burnings Tracy Segreti – silk painting, Torri Sessions – photography and digital art, Gary Taneri – painting and Noreen Yazvac – painting.
Music: 1st weekend, DJ, Maya Universe will spin house and jazz music on Saturday, November 23 and Sunday, November 24 from 12:00pm-5:00pm. 2nd weekend, Peppermint Pals with musician Dean Anshutz of Red Wanting blue will bring his collection on rare 45's and LPs from Youngstown Area Bands from the 1950's to the 80's on Saturday, November 30 and Sunday, December 1 from 12:00pm-5:00pm. Gallery Talks: Mary Lou Alexander, contemporary quilts artist talk on Saturday, November 23 at 2:00pm and Georgia Tambasis, funky ceramics, drawings and mono-prints artist talk on Saturday, November 30 at 2:00pm at the at the Robyn Maas Gallery, second floor last door on the left Vegan Bazar: Youngstown's mindful market celebrating local makers of the best cruelty-free, plant based products, food and goods.
Bliss Kids Collective: "YOUNGSTOWN Wants to Skate," a traveling exhibition of 50 skateboard decks created by local artists.
Food: Food trucks, artisan bread and local honey.
Free Admission: Parking is Free