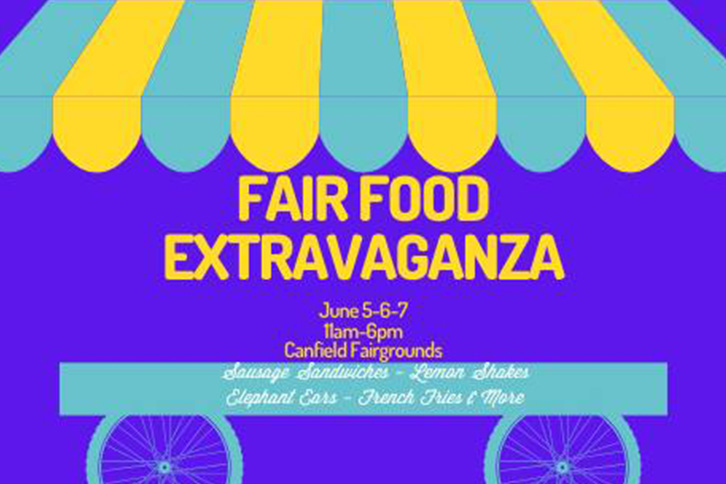 The Canfield Fair is proud to present the Fair Food Extravaganza featuring all of your Fair favorites from over 10 different vendors. Friday, June 5 – Sunday, June 7, 11am-6pm. Visit the Canfield Fair Facebook page for the latest information.
Island Noodles: Authentic Hawaiian style soba noodles prepared with 21 vegetables and signature sauces (Vegan) or with Teriyaki Chicken.
Mechling's: Elephant Ears, Drinks.
DiRusso's: DiRusso Sausage Sandwiches, Drinks.
Molnar's: Steak Hoagie, Hot Italian Sausage, Hot Dogs, Chili/Cheese Dog, French Fries, Cinnamon Rolls, Funnel Cakes, Drinks.
Sara's BBQ & Catering: Pulled Pork Sandwich, Pulled Chicken Sandwich, Brisket Sandwich, Ribs, Porky's Nachos, Porky's Fries, Nachos & Cheese, Fries, Platter – Sandwich, Fries, Coleslaw, Drinks.
Bates Concessions: French Fries – fresh cut, Steak Hoagie.
The Apple Cart – Bary Bunts: Cotton Candy, Candy Apple, Carmel Apple, Specialty Carmel Apple, Popcorn, Carmel Corn, Sno Cones, Drinks.
D&E Lemonade: Lemonade.
Brady's Concessions: Corn Dogs, Cheese on a stick, Italian Fried Cheese, Pretzel Bites, Drinks.
Richardson's: French Fries, Drinks.
Shirley's Steak & Sausage: Steak Sandwich, Sausage Sandwich.
DeChellis Concessions: Stromboli's (Original, Veggie, Pepperoni Roll, Superboli, Meatball, Chicken Italiano), Drinks.
Please enter at Gate 9 (Rt. 46) and plan to remain in your vehicle at all times. Concession employees will take your order and payment from your car and bring your food back to your car. Most vendors accept both Cash & Credit Card. Due to COVID-19, picnic areas are not available. Please enjoy your Fair Favorites in the comfort of your car or home, and follow best practices for social distancing and proper hygiene to help keep everyone safe.