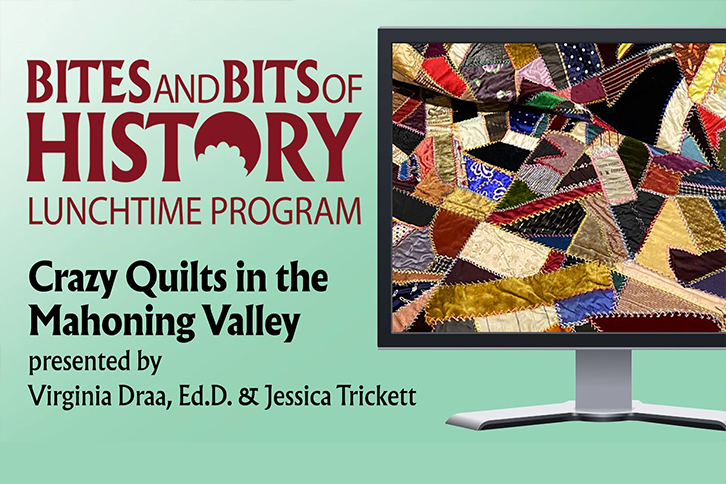 Mahoning Valley Historical Society will present "Crazy Quilts in the Mahoning Valley," in a special online Bites and Bits of History Lunch Program at Noon on Thursday, May 21, 2020. The video presenters will be Virginia Draa, Ed.D. and Jessica Trickett, MVHS Collections Manager. This program was rescheduled from its original date in March 2020 due to the closure of Tyler History Center and stay-at-home orders for the COVID-19 pandemic.
"We're thrilled to be able to share this special part of Mahoning Valley history with the community in a virtual way, given the current public health precautions," says Trickett.
Accessible through the MVHS Facebook page, friends to the page will be able to view the pre-recorded video presentation beginning at noon, lasting approximately one hour. Any questions that viewers may have can be entered in the comments section. A Facebook event has been created so that the public may receive reminders for the start time. The presentation video will also be available on the MVHS YouTube channel.
Dr. Draa and Ms. Trickett have recently co-curated an exhibit with crazy quilts as its focus. "Embellishment and Excess: Victorian Era Crazy Quilts" is currently on display in the Youngstown Foundation Community History Gallery at Tyler History Center and will be extended into the summer months. This will allow visitors who have not been able to see the exhibit because of the History Center closure, to have an opportunity to experience it. Draa also volunteers with the textile collections at Arms Family Museum, in addition to consulting with museums throughout the U.S.
While the in-person, Bites and Bits of History Lunch Programs cannot be presented during the Tyler History Center's temporary closure, MVHS hope to provide this public outreach service in an online format until further notice. The next program, slated for June 18, 2020, will be another rescheduled topic and speaker from a cancelled February appearance, "What Brought Them Here: African American Migrations into the Mahoning Valley" by Stacey Adger, local historian and genealogist. Those interested should consult the MVHS web site at https://mahoninghistory.org/events/.