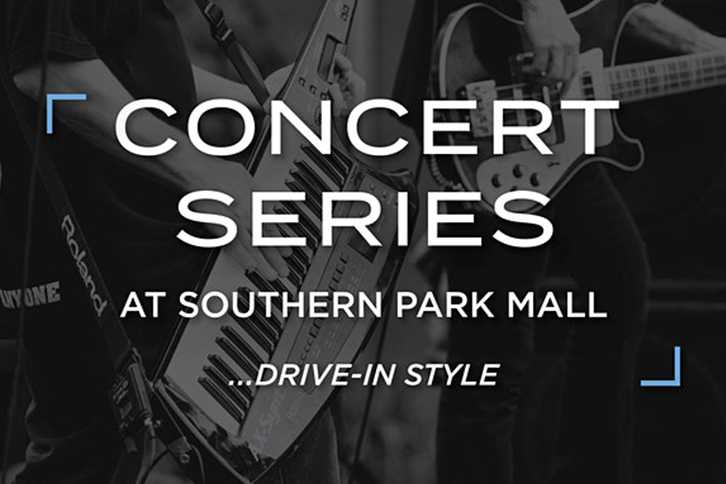 A fun, socially distanced night out enjoying your favorite local bands!
Southern Park Mall invites families to enjoy a special social distancing concert series September 10 through September 12 in the parking lot of JCPenney. Each themed nightly concert will feature popular local favorites including RDNA, Chris Higbee and The Vindys. Guests can purchase tickets in advance through Eventbrite; a portion of the proceeds will go to The Salvation Army of Mahoning County. The Concert Series at Southern Park Mall…Drive-In Style is sponsored locally by Sweeney Buick, PNC Bank and John and Jackie Burgan of Boardman.
Thursday, September 10th – "College Night" 7:00pm – RDNA with No Funk No Justice – Tickets $10/car
Friday, September 11th – "Country Night" 7:30pm – Chris Higbee with Northern Whiskey – Tickets $20/car
Saturday, September 12th – "Women Who Rock" 7:30pm – The Vindys with Leanne Binder and Rajma and Friends – Tickets $20/car
Please reserve one ticket per vehicle. Tickets can be purchased at eventbrite.com. Proceeds from ticket sales will be going to the Salvation Army of Mahoning County. Your purchase helps change lives for the better. In addition to a portion of the ticket proceeds benefiting The Salvation Army, guests are encouraged bring school supply donations to benefit Potential Development & Boardman Schools. Your support will make a difference in the lives of students with autism and students in need at Boardman Local Schools.
Vehicles will be admitted starting at 6pm each evening. When guests arrive, cars will be directed to a spot safely spaced from other guests where they can tune their radio to a designated station for audio streaming. With health and safety as the top priority, teams will ensure community members stay inside or within arms-length of their cars while they have a fun night out. Food and beverages will be available from Auntie Anne's, Chick-fil-A and The Smoke Workx Food Truck. Restrooms and hand sanitizing stations will be available at the event site.
In order to maintain a safe, fun environment, patrons agree by entering the Drive-In to abide by the rules of conduct stated below:
-Speed Limit – 5mph, before moving your vehicle to exit the parking lot, please check that the area is clear of people and objects.
-Please keep headlights off for the duration of the concert. Parking lights are acceptable, when parking or exiting the Drive-In.
-When parking your vehicle, ensure that cars are maintaining social distancing guidelines. Parking is on a first come, first serve basis. Management reserves the right to assign your parking space.
-They will get you tuned in to a radio station prior to the show.
-No Alcohol. No Smoking. No Vaping.
-Guests are required to be inside or arms-length to their vehicles for the duration of the concert, with the exception of using the restrooms or picking up food.
– Restrooms are available and 6' distancing will be required in line. Restroom attendants will be onsite to enforce capacity, line distancing and sanitation of facilities at regular intervals as needed.
– Masks must be worn while walking to restrooms and food trucks.
For more information, visit the Southern Park Mall's website.