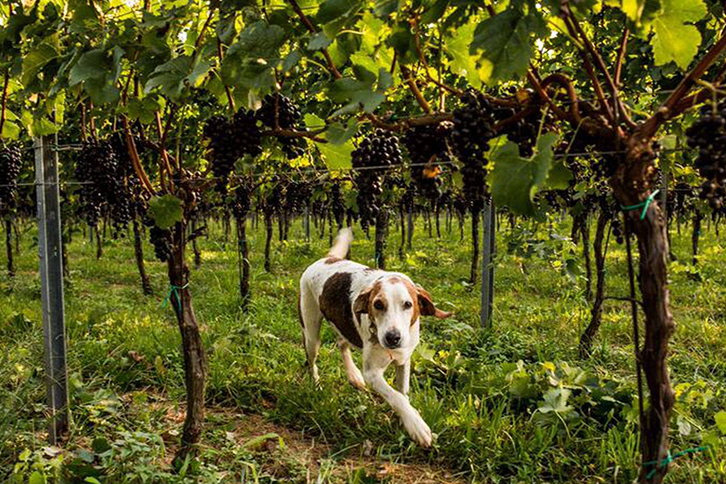 Enjoy a nice walk in the winding vineyards while enjoying a glass of wine with your dog (or no dog). Bring a chair or blanket and enjoy food, wine, music, vendors in the vines, demonstrations, Doga (yoga with or without your dog), wine/food pairing with the winemaker and much more! No outside food or drinks- there will be food and drinks available for purchase. Rain date is Sunday, June 9.
Location: In the vineyards as you pull into the property. Please park at the Tasting Room and walk over.
(DOGS ARE ONLY PERMITTED IN THE VINEYARDS! NOT IN THE TASTING ROOM OR THE PATIO)
They have paired up with Angels For Animals to raise money for their great cause! There are several ways you can help to donate to this great organization!
-Seamus playing from 12:30-4pm. Bring a blanket or chair with you to sit and enjoy some music while enjoying some wine and food! (Hot dogs & Coney Dogs will be grilled with a side of chips)
– 30 vendors will be set up in the vineyards. As you take a winding stroll through the vineyards sipping on some wine stop to shop as you go.
Register for the following at https://www.vineyardsatpinelake.com:
-Sign up for DOGA- this is yoga in the vineyards with OR without your dog. $15- class from 11-12 pm, glass of wine & a $5 donation to Angels For Animals. LIMITED SPOTS! Bring a mat.
– Dog Friendly Wine & Food Pairing with the Winemaker. $20 includes 3 wine samples (for the owner only) and 3 food samples that are safe to share with your dog AND a $5 donation the Angels For Animals. This will take place at 2:00 in the vineyards. LIMITED SEATING!
-Sign your dog up for a "PAWS"port for $20 and donate $5 to Angels For Animals, VPL Dog Gift, Special Dog Treat, Paw Print Painting of your dog and a wine sample for the owner. $5 for each additional dog and that ONLY includes a Special Dog Treat & Paw Print Picture. Must be registered by May 8th to get everything mentioned above.