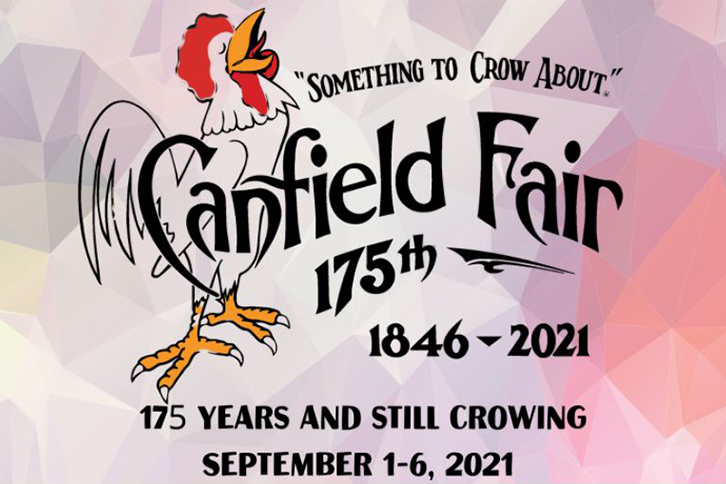 The 2021 Canfield Fair will be held September 1-6, 2021. This year is the 175th anniversary of the Canfield Fair, Ohio's largest county fair. The fairgrounds cover 350 acres, with a wide variety of exhibits, rides, livestock, crafts and the best fair food you'll ever eat!
This year, the Canfield Fair welcomes two headlining acts to the Grandstand. Grammy-winning country star Darius Rucker will perform on Sunday, September 5 at 8pm. American rock group Shinedown will perform on Monday, September 6 at 7pm.
Visit the Canfield Fair website for the latest news.
Flock to the Fairgrounds
A community art project, Flock to the Fairgrounds, will celebrate 175 years of Canfield Fair traditions. The project features six-foot tall replicas of the iconic rooster standing on "the big rock." Select area artists have transformed the statues and the finished flock will make its debut at the 2021 Canfield Fair. The individual roosters will then be moved to locations throughout the Mahoning Valley for public display through October 2021. The flock will be united one last time—at a live auction in November 2021.
NEW Canfield Fair App
Be sure to download the official Canfield Fair App. The app provides you with the tools to navigate your way around the Canfield Fair. Get your admission tickets and grandstand event tickets and plan your day in advance using the schedule of events. An interactive GPS map will allow fairgoers to pin and name significant locations as an easy way to remember locations of a parking space or food vendor. Sign up to receive notifications for news and announcements. The app is available for free download in the App Store by searching "Canfield Fairgrounds".
Events in the Grandstand    
In addition to the Darius Rucker and Shinedown concerts, there will be other special events in the grandstand. On Wednesday, September 1, catch the annual Pig Iron Derby at 6pm. On Friday, September 3, the World's Largest Demolition Derby returns to the Canfield Fair at 8pm. Cheer on dachshunds in the 3rd annual Wiener Dog Derby on Saturday, September 4 at 11am. The Championship Truck & Tractor Pull will be at 7pm. Stay up-to-date on all scheduled events by viewing the 2021 Canfield Fair Daily Program.
A Visit to the Past
Don't forget to include a visit to the Western Reserve Village area, located on the western edge of the fairgrounds near Route 46. There you will find a recreated village showcasing what life was like in the mid-1800s. Ten historic buildings surround a village green, plus take a look at the steam engine with rail car and caboose. Just across the way, you will find the Carriage Museum, which houses some wonderful historic treasures.
Enjoy live entertainment this year in Western Reserve Village:
Steve Vuich – Thursday, September 2, 5-7pm
Following June – Friday, September 3, 1-3pm
Davis & Henner – Friday, September 3, 5-7pm
Anthony Horvath – Saturday, September 4, 1-3pm
Steve Fazzini – Saturday, September 4, 4-6:30pm
Gods Quad Quartet – Sunday, September 5, 11am-1pm
Canfield Community Band – Sunday, September 5, 2-3pm
Leanne Binder – Sunday, September 5, 4-6:30pm
JD Eicher – Monday, September 6, 1-3:30pm
2021 Daily Gate Prices
Children 6 years old and under are free every day. Youth are 7-12 years old, adults are 13+ years old and senior citizens are 62+ years old. Guided senior shuttles will be available on September 1 & 3 from 8am–5pm, with a Senior Lounge and Cooling Station available for use.
Wednesday, September 1 (Senior Day): $3 youth, $6 adult, $4 senior
Thursday, September 2 (Youth Day): FREE 12 and under, $3 ages 13-17, $8 ages 18+
Friday, September 3: $3 youth, $8 adult, $6 senior
Saturday, September 4 and Sunday, September 5: $5 youth, $10 adult and senior
Monday, September 6: $2 youth, $6 adult and senior
Still looking for more details about this year's Canfield Fair? Visit their website.