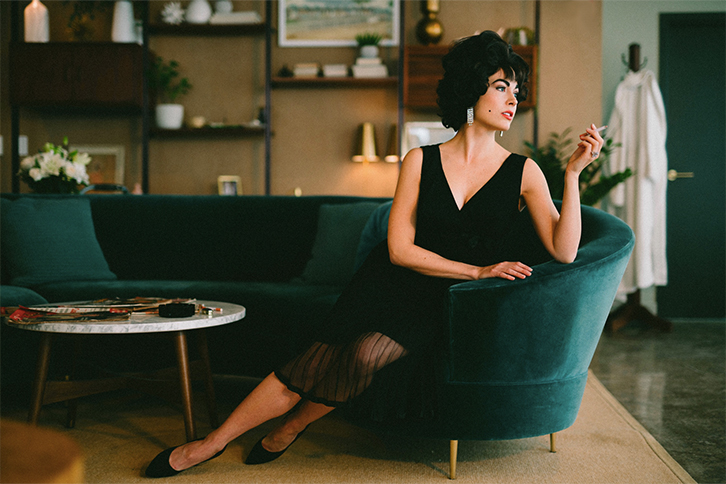 Call Me Elizabeth, a one-woman show about the early life of Elizabeth Taylor, will have its live regional premiere at The Youngstown Playhouse on June 25 & 26, 2022. The production, written by Kayla Boye and directed by Erin Kraft, comes home to Youngstown following a live world premiere in the 2022 Hollywood Fringe Festival. The show will be presented in The Moyer Room for two performances, Saturday, June 25 at 7:30pm, and Sunday, June 26 at 2:30pm. General admission tickets are $20 plus a $3 service fee per ticket.
Fresh off her triumph as Best Actress for "Butterfield 8" and recovery from a recent brush with death, Elizabeth Taylor is struggling with her hardest role yet: herself. Set in May 1961, Call Me Elizabeth is inspired by Taylor's conversations with writer Max Lerner as they discuss plans for a biography. Through an intimate conversation with Lerner, the star examines her early life, career, and loves as she grapples with the culture of celebrity and her place as Hollywood's brightest star. The play illuminates the compassion of her character that inspired her later activism in the fight against HIV/AIDS.
Kayla Boye recently served as Executive Director of The Youngstown Playhouse and has been seen in Mary Poppins, Chicago, and Curtains. Currently a Chicago-based artist, her regional credits include productions with Chicago Shakespeare Theater, Drury Lane Theatre, Fireside Theatre, Capital City Theatre, and more. Erin Kraft is a Chicago-based director and has directed new play workshops and world premieres for several theatre companies.
Tickets are on sale now and can be purchased Monday through Friday, 10:00 am-5:00pm by calling 330-788-8739, or in person at The DeYor Performing Arts Center. Tickets are also available 24 hours a day online at youngstownplayhouse.org.