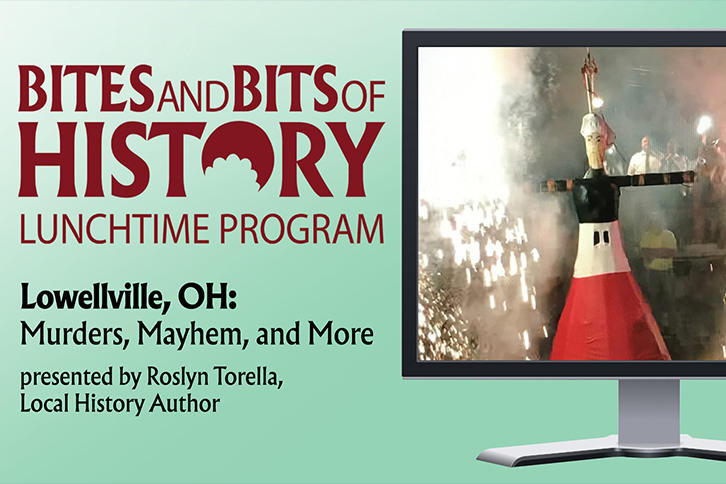 Mahoning Valley Historical Society will present the Bites and Bits of History – Lowellville, Ohio: Murders, Mayhem, and More program at noon on Thursday, July 16. The video presentation can be accessed on the MVHS YouTube channel or through the MVHS Facebook page.
Learn about the village of Lowellville and its pre-Prohibition days. In the 1910s, Lowellville was said to be the rowdiest city in the state of Ohio. In fact, the little village with a population of around 2,000 had over 1,600 arrests in 1913 with charges mostly for public intoxication and pick pocketing! Roslyn Torella, local history author, shares her research and family stories about the infamous events that happened to the village in the pre-Prohibition era. Her book, by the same title, can now be purchased at the Tyler History Center Gift Shop.
Since May of this year, as a response to closing its doors to the public because of the COVID-19 pandemic, MVHS transformed its onsite educational programming to a virtual platform. The monthly Bites and Bits of History lunchtime programs continue to teach local history in enjoyable and informative ways in an environment where social distancing is still very critical to public health. Even though MVHS has reopened Tyler History Center with limited hours and safety precautions, its educational outreach will still be offered online for the foreseeable future.
Upcoming programs for Bites and Bits of History are:
• August 20—"Shall Not Be Denied: History of the Women's Suffrage Movement" by Traci Manning, MVHS Curator of Education
• September 17—"MVHS & Good Humor Anniversary Special" by Bill Lawson, MVHS Executive Director
The MVHS Bites and Bits of History lunchtime program series is presented by the John and Loretta Hynes Foundation. For any questions regarding any educational programs, please contact Traci Manning by email at [email protected]