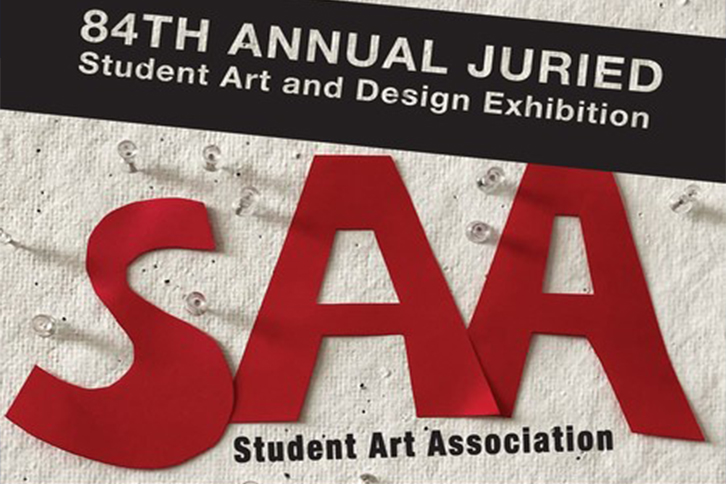 The John J. McDonough Museum of Art is excited to announce the opening of their spring schedule of exhibitions with the highly anticipated 84th Annual Juried Student Art & Design Exhibition sponsored by the Cliffe College, the Department of Art, the McDonough and the Student Art Association and the Bliss Kid Collective's exhibition. entitled, Ellipsis. Both exhibitions open on January 22 and continue through February 5 at the Museum.
The juried show is a yearly tradition featuring works by students enrolled in the Department of Art at Youngstown State University. Local businesses and individuals have generously supported this annual exhibition and its talented artists by contributing cash awards and gift certificates. Award categories include ceramics, photography, painting, drawing, sculpture, digital media, and graphic and interactive design. It is an opportunity to witness the strength, breadth and diversity of YSU's Department of Art.
They are honored to have Anderson Turner as the juror for the exhibition. He received a BFA in sculpture from the University of Arizona and went on to earn an MFA in ceramic art from Kent State University (Ohio). He has served as a technical editor for the American Ceramic Society and the Publications Director for the National Council on Education for the Ceramic Arts (NCECA). He has edited and compiled numerous books as well scholarly journals about ceramic arts. He continues to make and show artwork and maintains a studio at his home in Akron, Ohio. He currently serves as the Director of the School of Art Collection & Galleries for the Kent State University School of Art and has been the Art Critic for the Akron Beacon Journal since 2014.
The Bliss Kids Collective is a unique coalition of artists participating in exhibition driven challenges, each of which vary in criteria and subject the artists to parameters they may have not naturally considered otherwise.
Ellipsis is a continuation, a space, a pause, and an indication that artists are still producing vibrant and meaningful pieces amidst a failing economy, during a global pandemic, occasionally without studios, and – for many of our artists – outside of the structure of academia. The show will feature over 20 regional artists faced with the challenge to exhibit three pieces of artwork in a series.
Since its inception in 2018, Bliss Kids Collective has worked to expand the idea of contemporary regional artists, build inclusive shows, support artists that may not have had the opportunity or tools to be shown, and most importantly, create a community. Ellipsis is Bliss Kids Collective's seventh show, which included two shows during the global pandemic – a virtual show, viewable on their Instagram and a zine that was published in spring of 2020.
New guidelines are in place in an effort to protect the health and safety of patrons, students and staff and prevent the spread of COVID-19 including: Enhanced institutional cleaning and sanitizing | Daily health screenings for staff | Temperature and hand sanitizer station for visitors | Face coverings required by all | Social distancing of six feet or more | Directional arrows to define traffic patterns | Special hours by appointment for vulnerable populations | Capacity limit of seven per gallery.
Museum Hours are Tuesday through Saturday 11am to 4pm.