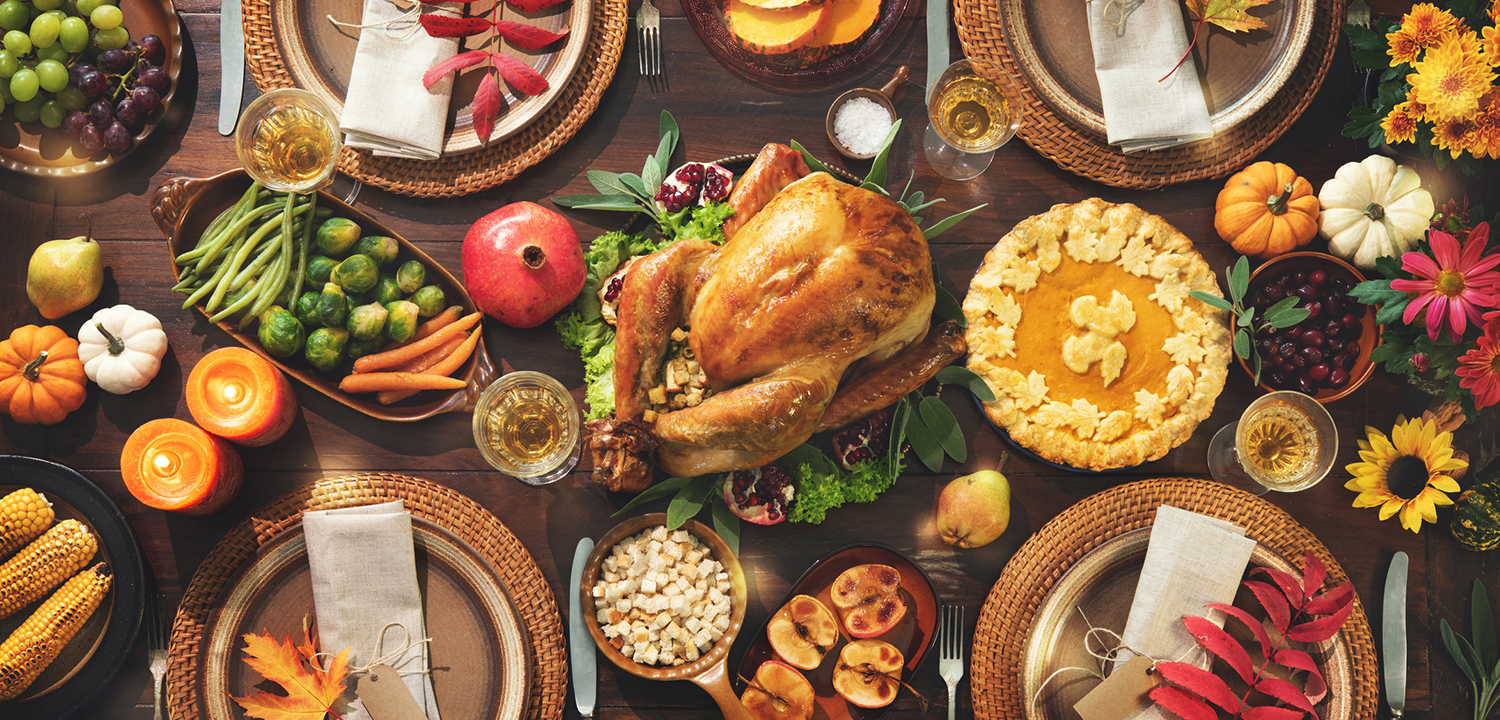 Several local restaurants in Youngstown & Mahoning County are offering carryout dinners this Thanksgiving. Contact each restaurant directly to place your order. Pick-up days and times vary.
Angenetta's Restaurant and Catering
64 Cardinal Drive, Canfield, 330-533-6090
Roast turkey (whole) with stuffing and gravy is $5.00 per pound. Candied yams, mashed potatoes, roasted potatoes, grilled mixed vegetables, green beans Almondine, and homemade stuffing are available in half pans and full pans. Homemade cranberry sauce and gravy are available by the pint or quart. Call 330-533-6090 to place an order for pick-up on Wednesday, November 25.
B&O Station
530 Mahoning Ave., Youngstown, 330-707-4474
Thanksgiving Feast includes savory gravy, cranberry orange sauce, and homemade sweet rolls. One choice from each of the following. Cornbread stuffing, Oyster stuffing, OR sausage cranberry stuffing. Mashed potatoes, scalloped with bacon and leeks, OR garlic parmesan roasted. Green bean casserole, roasted balsamic Brussel sprouts, OR roasted carrots, zucchini, green beans & red onions. Sweet potato pecan casserole, OR maple roasted butternut squash. Macaroni & cheese, OR creamed corn casserole. Homemade pumpkin pie, homemade cherry pie, homemade apple pie, OR homemade pecan pie. Order by November 21, call 330-707-4474. Pick-up November 25.
Cafe 422 
8586 South Ave., Boardman, 330-629-2422
Café 422 in Boardman will be open from 12:00pm-4:00pm for carry-out on Thanksgiving Day. Call 330-629-2422 to place your order.
Charly's Family Restaurant
4455 Kirk Road, Austintown, 330-799-5569
Family meal serves four and includes a choice of turkey and stuffing ($44.99) or stuffed chicken breast ($49.99). Dinners include: mashed potatoes and gravy, green bean Almondine, tossed salad, rolls, cranberry sauce, whole pumpkin or apple pie. Orders must be placed by November 22. Call 330-799-5569 to place your order.
Das Dutch Haus
14895 South Ave., Columbiana, 330-482-2236
Pre-order your Thanksgiving Dinner to-go from Das Dutch Haus. Dinner serves 4-5 people. Pricing starts at $64.95 and includes: 1 quart of mashed potatoes, 1 quart of stuffing, 1 pint of gravy, 1/2 pint of Cranberry Relish or Dutch Peanut Butter or Apple Butter, 1 quart of green beans or 1 quart of buttered corn, 1 dozen white or wheat dinner rolls, 2 lbs. mixed turkey or 2 lb. glazed ham, and 1 homemade pie. Order in person or call 330-482-2236 before November 24. Pie and cake orders also accepted.
Davidson's Tavern
3636 Canfield Rd., Canfield, 330-793-0033
To-go dinner includes roasted turkey, honey glazed ham, homemade stuffing, mashed potatoes, buttered corn, candied yams, gravy, rolls and butter, salad with house dressing, and pumpkin pie. $19.95 per person. Pick-up times are 12pm, 1pm, 2pm, 3pm, and 4pm Thanksgiving Day. Orders must be placed by November 25, call 330-793-0033.
Jeff Chrystal Catering
2315 Belmont Ave., Youngstown, 330-743-8062
Orders must be placed by Monday, November 23 and can be picked up on Thanksgiving Day between 11:00am and 3:00pm at 2315 Belmont Avenue. Call 330-743-8062 to place your order. Dinners to Go: Cherry wood spit or slow roasted turkey, sage stuffing, whipped potatoes with pan sauce, steamed vegetables, candied yams, cranberry sauce, salad with vinaigrette, homemade bread, and pumpkin pie. Large feeds 12-14 guests – $350.00; Small feeds 6-8 guests – $285.00. Individual Dinners: Roasted turkey breast, whipped potatoes with pan sauce, sage stuffing, vegetable medley, candied yams, cranberry sauce, garden salad with vinaigrette, slice of homemade bread, and slice of pumpkin pie. $24.50 per dinner. Whole pies and homemade loaves of bread available.
Michael Alberini's Restaurant & Wine Shop
1140 Boardman-Poland Rd., Boardman, 330-965-2524
Full course Thanksgiving dinner for pre-order, ready to heat and eat. Choose one: Turkey (white meats), Ham. Choose three: Traditional stuffing, Yukon mashed potatoes with gravy, Baby baked potatoes with parsley butter, Sweet mashed potatoes, Green beans Almondine, Glazed carrots with cinnamon butter, Steamed broccoli, Wild rice, Ohio sweet corn. Choose one: Pumpkin pie, Apple pie. Cranberry Jell-O salad included in all orders. Extras: Hot peppers and oil (1 pint) $8.00; Loaf Ciabatta bread – $6.00 each; Extra gravy – pint $6.00; Extra side 1/$6.00 (for 2 people). Dinner for two $39. All orders must be placed by Sunday, November 22. Pick up by November 25 between 2:00pm-9:00pm. To place an order, call 330-965-2524.
Rachel's Restaurant
54 Westchester Dr., Austintown, 330-799-1700
Pre-order the Thanksgiving Carryout Special at Rachel's Restaurant & Catering. Last day to order is November 23. Call 330-799-1700. Pick up on Thanksgiving Day from 11:00am-3:00pm. Price is $22.00 per person and includes: Turkey and stuffing, Mashed potatoes and gravy, Ham, Sweet potatoes, Green beans, Salad, Dinner roll, Slice of pumpkin pie.
Waypoint 4180
4180 Westford Place, Canfield, 330-286-3864
Thanksgiving dinner includes carved breast of turkey, carved ham with pineapple and cherry glaze, whipped potatoes, country gravy, house made herbed stuffing, sweet potatoes, sweet corn with Amish butter, Waypoint Salad with house white balsamic dressing, assorted rolls and muffins, pumpkin or apple pie.  Carry Out Meal is $25.00 per person. Two pick-up times: 11am-12pm or 3-4pm. Call 330-286-3864 to place a carryout order.
The Vineyards at Pine Lake
14101 Market Street, Columbiana, 330-549-0195
Takeout orders can be picked up Thanksgiving Day between 12:30pm and 2pm.  If you are interested in placing a takeout order, visit The Vineyards at Pine Lake website. Orders can be made between now and Friday, November 20. The menu includes: turkey, turkey gravy, carved ham, stuffing, mashed potatoes, sweet potato casserole, green beans, corn casserole, cranberry sauce, house salad with Ranch and Italian dressing, house rolls with butter, and assorted pies. Ticket costs are as follows: Adults $25.00, Children (6-12) $13.00, and Children (5 and Under) Free.
https://youngstownlive.com/wp-content/uploads/Carryout-Thanksgiving-Dinner.jpg
720
1500
Tara Mady
https://youngstownlive.com/wp-content/uploads/Youngstown-Live-Logo-Resized.png
Tara Mady
2020-11-13 09:30:24
2020-11-16 15:12:04
Carryout Thanksgiving Dinners