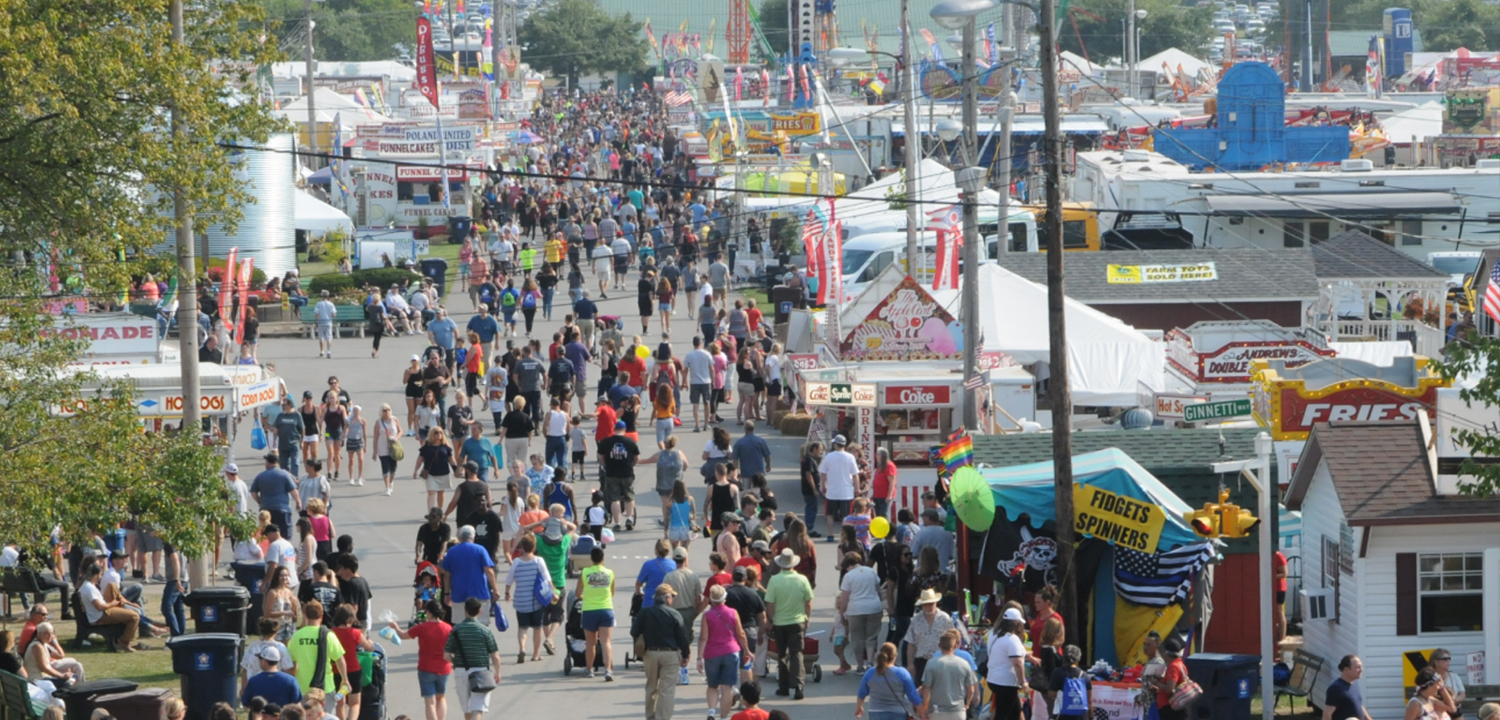 With plenty of delicious food, exciting entertainment and ample activities, the 173rd Canfield Fair is just over a week away. From Wednesday, August 28 through Labor Day, September 2, the fairgrounds will fill with 500,000+ visitors and locals alike. As the largest County Fair in Ohio, and one of the top 25 Fairs in the nation, here's what you can expect to see this year.
Groundbreaking Views, Literally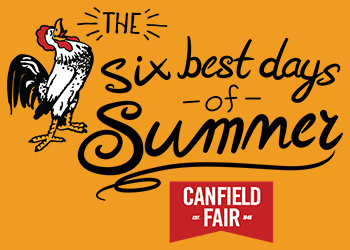 You will have the unique opportunity to see the fairgrounds in the midst of a $4 million (yep, you read that right) capital campaign to add several new buildings and facilities. Right now, the project is in its earliest stages of "phase one," which includes clearing space for a new exhibition area located at the corner of Wetmore and Goshen Drives. Official ground breaking is scheduled for September 25. Phase two will add restrooms, a kitchen area, meeting rooms, foyer and other additions. The entire project expected to be completed within three years. The point? To provide more space in Youngstown for not only junior fair activities, but also other events like home and garden shows and auto shows!
An Opening Ceremony to Remember
The Canfield Fair's opening ceremony will be held on Thursday, August 29 at 10am at the new expo center construction site. This year, the ceremony will be marked with a parachute jump by the All Veterans Group. Fun fact: The president of the All Veterans Group is the same person that skydived with President George Bush on his 83rd, 85th and 90th birthdays.
Trucks, Tractors and Wiener Dog Derbies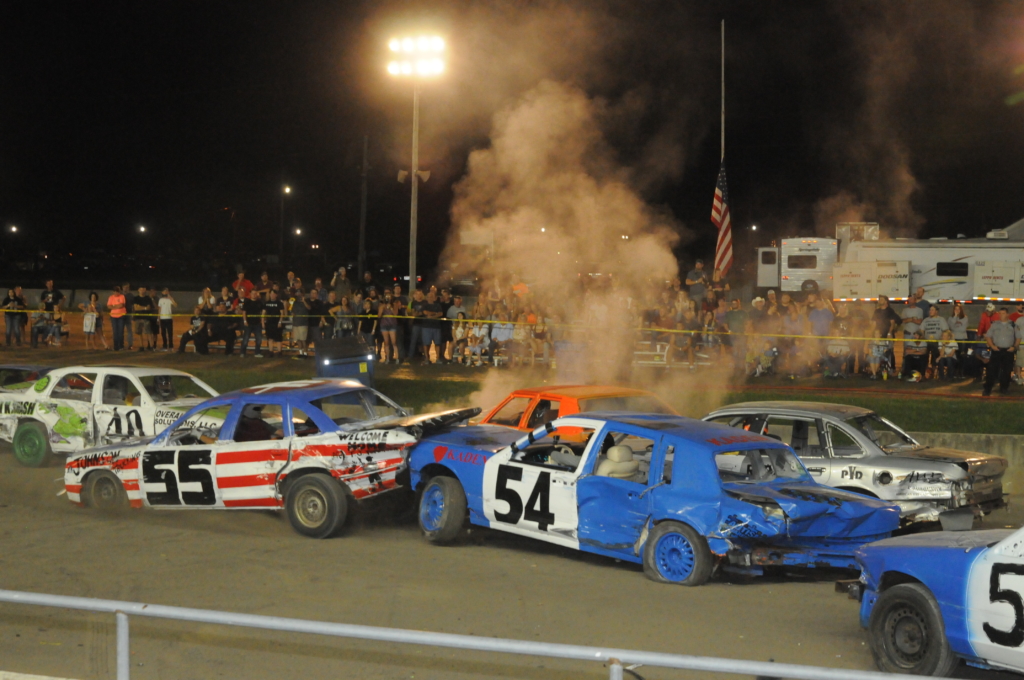 When it comes to unique entertainment, the Canfield Fair doesn't disappoint. On Wednesday, August 28 in the Grandstand, catch free cheerleading demonstrations at 11am and the annual Draft Horse Pig Iron Derby at 6pm. On Thursday, August 29, a free high school band show will take over the Grandstand at 11am. On Friday, August 30, the World's Largest Demolition Derby returns to the Canfield Fair at 8pm. Tickets to the Demolition Derby can be purchased online. Saturday, August 31 marks the annual Truck & Tractor Pull, also hosted in the Grandstand, at 7pm. Tickets for the Truck and Tractor Pull range in price from $7 to $14 and can be purchased online. And, for the first time in Canfield Fair history, the Grandstand will host the inaugural Wiener Dog Derby. Cheer on a total of 80 dachshunds as they race down 20 yards of the Canfield track. Stay up-to-date on all scheduled events by viewing the Canfield Fair Daily Program.
Show-Stopping Entertainment
This year, the Canfield Fair welcomes two headlining acts to the Grandstand: Pentatonix with special guest Rachel Platten on Sunday, September 1 and comedian Gabriel Iglesias on Monday, September 2. Pentatonix is a five-person American a cappella group from Arlington, Texas known for both their original music and covers of popular songs. Gabriel Iglesias, comically known as Fluffy, is an American comedian known for his standup comedy that mixes storytelling with sound effects.
Swag by Youngstown Clothing Co.
The fair recently announced a new partnership with Youngstown Clothing Co. to serve as the official souvenir provider of the 173rd Canfield Fair. So, expect lots of creative, fair-themed t-shirts and apparel. A portion of the proceeds will go to the fairgrounds' ongoing capital campaign.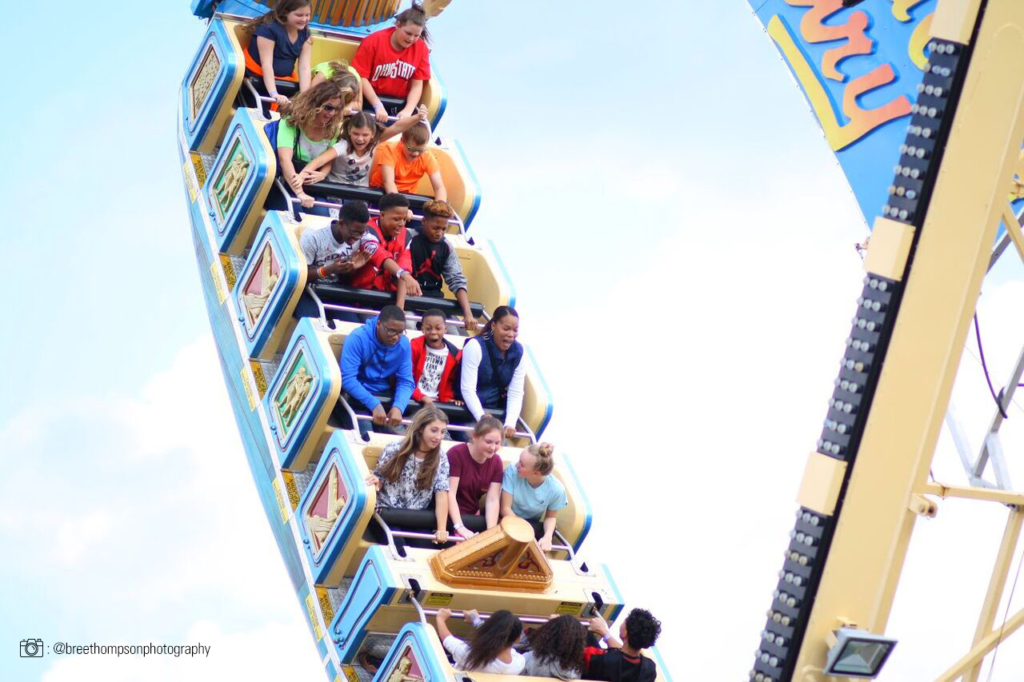 Exhilarating Rides
It's not a fair without the rides, right? Last year, the fair welcomed 10 new Cedar Point-quality rides and this year, you'll see them again! Think: Ferris wheels, a full-scale roller coaster and, new this year, the 50-foot high Ring of Fire. All Day Ride Passes can be purchased at the fair for $17 Wed-Thurs, or $20 Fri-Mon. Ride passes are valid for one pass per day and do not include the cost of an admission ticket.
Classic Fair Food 
At the Canfield Fair, you'll discover rows upon rows of delicious food and drink vendors. Choose between all sorts of fair food classics like fresh-cut fries, hand-squeezed lemonade, funnel cakes, corn dogs, gyros, and cotton candy, as well as food offerings you may not be expecting.
Lots and Lots 'o Barns
It shouldn't be a surprise that the fairgrounds are spotted with 60+ barns and buildings, dedicated to (you guessed it) animals and contest submissions. In the barns, you'll find everything from horses and rabbits to cattle and sheep. The buildings not only offer a much-needed reprieve from the heat, but also showcase things like art, pumpkins, flowers, booths and more. Click here for a detailed map of the barns and buildings at the fairgrounds.
Special Themed Days
Each year, the Canfield Fair dedicates days to specific age groups, and this year is no exception. Wednesday, August 28 is Senior Day. Seniors 62 years of age or older can enter the fair on August 28 for just $4. Guided senior shuttles will be available on August 28 and August 30 from 8am–5pm, with a Senior Lounge and Cooling Station available for use August 28-30. Youth Day, presented by Akron Children's Hospital Mahoning Valley, is on Thursday, August 29. On August 29, admission for kids 12 and under will be free, while admission for ages 13-17 will be just $3. On Youth Day, kids are welcome to visit the Akron Children's Hospital activity tent by the Grandstand.
A Visit to the Past
Don't forget to include a visit to the Western Reserve Village area, located on the western edge of the fairgrounds near Route 46. There you will find a recreated village showcasing what life was like in the mid-1800s. Ten historic buildings surround a village green, plus take a look at the steam engine with rail car and caboose. Just across the way, you will find the Carriage Museum, which houses some wonderful historic treasures.
With gates opening daily at 8am, visitors and locals alike have ample opportunities to visit the fairgrounds. And no matter your age or group size, the fair keeps admission pretty affordable. Keep in mind: Youth are ages 7 to 12 years old, adults are 13+ years old and senior citizens are 62+ years old. Children 6 and under and servicemen and women in uniform are always free. Take a look below at admission costs per day.
Wednesday: $3 youth, $6 adult, $4 senior
Thursday: FREE 12 and under, $3 ages 13-17, $8 ages 18+
Friday: $3 youth, $8 adult, $6 senior
Saturday and Sunday: $3 youth, $8 adult and senior
Monday: $2 youth, $6 adult and senior
Still looking for more details about this year's Canfield Fair? Visit their website. For other upcoming events in the area, visit our Facebook page or our website.
https://youngstownlive.com/wp-content/uploads/Canfield-Fair-3.jpg
720
1500
Tara Mady
https://youngstownlive.com/wp-content/uploads/Youngstown-Live-Logo-Resized.png
Tara Mady
2019-08-19 10:16:36
2019-08-19 10:30:43
10 Things to Expect at the 2019 Canfield Fair